Keeping kids in sports
Posted on October 23, 2018 by Sunny South News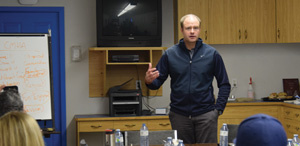 Sunny South Photo by Nikki Jamieson
Coaldale Minor Hockey League brings in Changing the Game founder to talk about ensuring kids are enjoying sports
By Nikki Jamieson
Sunny South News
Remember, it's just a game.
That was the message John O'Sullivan, founder and CEO of the Changing the Game Project, had for parents and coaches in Coaldale last week, when he was invited by the Coaldale Minor Hockey Association to speak about getting kids into sports and how to keep them interested in it.
"Sport is about the needs and the values and the priorities of the kids who are playing, and not necessarily the adults who are watching or coaching or running the leagues," said O'Sullivan, after meeting with coaches on Oct. 18.
"Kids tell us over and over that they need certain things in sport, first and foremost they want it to be fun. And oftentimes, we do allow things that make it not fun for them.
"Some kids might really want more when they're young, when they're seven or eight or nine, and some kids, it might not click until they're 12. But if they quit when they're nine, then we've lost them to the game, and they're going to do something else. And this isn't just a hockey issue; this is a human issue. We want children who are active and know how to move and love activity, because that's how we build healthy communities."
O'Sullivan stresses a player-centered experience for those in youth sports is key to keeping them playing a sport and active.
Sports culture today is super-competitive and performance-focused, often to the detriment of the kids playing the sport.
According the Changing the Game Project's website, 70 per cent of kids drop out of organized sports by the time they are 13 years old, and a large reason for it is because they no longer have any fun playing it. Adults can be largely responsible for it, and the project aims to make sports a player-focused experience again.
O'Sullivan has 20 years experience as both a soccer player and a coach at the youth, high school, college and professional levels, and has written a book and blog on the subject, and says the key in keeping kids active and in sports is to make sure they have fun.
"Great coaching makes it fun, positive team environments make it fun. Getting playing time, whenever they play a game, makes it fun. Things that make it not fun — parents and coaches yelling from the sidelines, being disrespected, being demeaned, bullying, bad team environments, things like that makes it not fun," said O'Sullivan.
"Sports has been absolutely critical in my life, and where it was most important was having great coaches, who helped me build my confidence and self esteem, and my love of sport and activity, and made me believe in myself, or at times, when I didn't believe in myself, right, people who saw more in me then I saw in myself. So coaches can have such a tremendous impact, and we have to just be better at helping them do that in a positive way.
O'Sullivan met with coaches in the afternoon at the Coaldale Arena and met with parents in the evening at St. Joseph School.
While it's a different talk for those groups, the principle of putting players first doesn't change.
"My role as a parent and my role as a coach are two different things," said O'Sullivan.
"When I go to a game, I can have one of four roles: I can be a coach, a player, a spectator or an official. But I can't be two. So coaches shouldn't officiate, and parents shouldn't officiate or coach — just be a fan.
"The chances are, if I said to you what was the score of your game two years ago, on March 20, no one could tell me. So don't get so caught up in the moment. Winning and losing are a part of youth sports, and youth sports is about development. So instead of worrying about the bad call or the bad coaching or the bad official or whatever, just worry about your kids getting better and coming back and being in a safe environment. The fact is, 99.99 per cent of kids are not turning professional, but the things they learn in sport become life skills."
In communities the size of Coaldale, O'Sullivan says that you cannot be "hyper-focused" on the kids who are better at a sport then others.
"We have to focus at developing as many kids as possible, and keeping them in the game for as long as possible, in the best playing and coaching environment possible, and then letting them grow, go through their growth spurt, if we want to produce high-level hockey players. But it can't just be about finding the best 7-year-olds and getting rid of the rest."
Although not all players would want to go on the be the next big name, organizations like minor hockey organization's missions should be to develop players for life — which is the Alberta Hockey and Hockey Canada mission statement.
Minor hockey associations should strive to accommodate players who will go down the sport-performance path or a sport-participation path.
"We want life-long lovers and players of this game," said O'Sullivan.
"Just because a child doesn't have aspirations of playing in the NHL, doesn't mean he or she can't play hockey until they're 60-year-old.
"What we should never want to be is a child's last coach, the one who makes them hate hockey."
Parents who have kids who are getting into sports should make sure they are having fun while playing.
"The most powerful thing that you can say to your kid after a game is 'I love watching you play. I love the fact that you are out there, competing and working hard. Some days are good, some days are not, but I still love watching you play'."