Copperheads holding annual Cancer Bake Sale fundraiser Saturday
Posted on October 30, 2018 by Sunny South News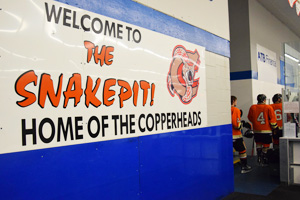 Sunny South file photo
Coaldale Copperheads
The Coaldale Copperheads are preparing for their annual Cancer Bake Sale Fundraiser this coming Saturday,  Nov. 3.
The team encourages anyone in the area to participate in donating or purchasing to this great cause.
All proceeds from the sale will be donated to the local Lethbridge Regional Hospital Jack Ady Cancer Centre.
Baked goodies can be dropped off starting at 6:00 p.m. in the arena lobby. The sale will start around 7:00 p.m., and will commence once their home game completes that night.
Home game action will start at 8:30 p.m. as the Mountain View "Didsbury" Colts are at the Snake Pit.
It ended up being a quieter than planned weekend for the Snakes following a sudden cancellation of Saturday's home game against Three Hills.
The Snakes apologies for the last minute notice to their fans and to the Three Hills team who ventured this way.
A unfortunate situation with the zamboni gate malfunctioning created an unsafe situation to proceed.
The Copperheads are not certain of the time or place for the makeup  game. It will depend on home ice availability that will work with both teams schedule; once in place it will be announced.
Friday the lone game of the weekend seen the team win in High River 3-1.
Broc Merkl played the full sixty minutes facing the Flyers 30 shots in total.
Jared Bainbridge lead the scoring in the game at 1:13 followed by Riese Nevil and Mitchell Konschuk popping the other two goals.
Chase Williamson had duece assists while playing a defensive role for the evening game.
Copperheads current league standings after 11 games is 8-1-2.