Copperheads win one lose one in past weekend
Posted on November 6, 2018 by Sunny South News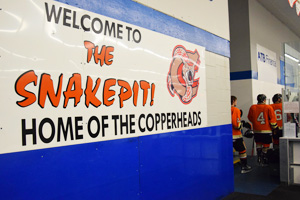 Sunny South file photo
Coaldale Copperheads
Copperheads this past weekend decided to win one and then lose one in league play.
Saturday night at the Snake Pit the Snakes and the Colts were fairly evenly matched after the first period.
Shots were within a few and the Copperheads led 2-1 after twenty. First goals came off the sticks of Sam Rousseau and Tyler Anderson.
Copperheads took control the second period out shooting the Colts 17-6. After forty they led 4-1 with a single from Brandyn Howg and a turning point power play goal from Ty Abbott.
Third period seen fifteen shots a piece.
Mid way for though the third Copperheads Jared Bainbridge scored but the Colts added two more to follow. Nolan Berner earned the 5-3 win for the Snakes facing 34 shots.
Sunday the crew headed to Strathmore for their first viewing of the Wheatland Kings for the season.
Copperheads game appeared to be going their way leading 3-0 after forty minutes. It was a third period shell shock for those watching.
The Snakes allowed six unanswered goals, three of those power play Colts goals and two open net goals to suffer a 6-3 loss.
leaves the Copperheads's with a 9-2-2 league record to date.
This coming weekend will feature two in one weekend home games.
Saturday will see the Strathmore team back for assuming Snakes revenge at 8:30 p.m. Sunday, Nov. 11, Remembrance Day, is set for a makeup game against Three Hills at 2:30 p.m.