Copperheads stay on track at the top
Posted on December 11, 2018 by Sunny South News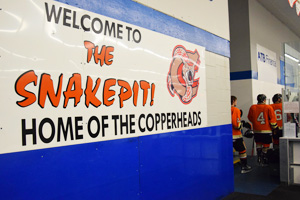 Sunny South file photo
Coaldale Copperheads
Another successful weekend keeps the Copperheads right on track.
Currently keeping their top spot of the south division of the Heritage Junior league. Friday night, with a a tough early departure road swing to Three Hills the Snakes had no troubles with the Thrashers.
It was a 14-1 victory to set the pace for the weekend set of consecutive wins. In Three Hills second-year forward Brandyn Howg had a six point night, with three of goals and assists. Another strong show casing came from 20 year old Jedd Horvath who also netted a hat trick with one assist. Double goals came from Jared Bainbridge and Jayden Bexte. Singles from Jayden Smith, Brant Mack and Tyler Anderson who also had one assist. Defenseman Tyler Strath was credited with his first HJHL career goal of the night. Goaltender Broc Merkl finished with 26 saves in the sixty minutes of play.
Saturday night was a close one all the way till the third period against Blackfalds Wranglers at the Snake Pit. Copperheads with a goal from rookie Jason Creighton at 14:30 seen the sole goal of the first period.
The Wranglers came out with a force in the second popping the first two goals at 1:17 and 4:36 minute marks taking the lead 2-1. Copperheads answered immediately back at 4:58 with a hard working fore checking type of goal scored by Howg from Creighton. Until 13:04 it was a back and forth affair until Horvath stepped up his game once again putting the Snakes up 3-2. It didn't take long and Blackfalds evened the scoring at 14:33. It was a very thrilling finish of the period with numerous penalties and lengthily fight from Creighton sending many from both teams to the dressing room. Third period most important goal came at 2:77 from veteran Smith who had quite the productive period.
Wranglers couldn't sneak one by Nolan Berner who faced 28 shots throughout the game in net. Tyler Anderson changed the momentum of the game adding the Snakes fifth and Smith secured his second of the period.
Final score was 6-3, sending the Copperheads on a eight game winning streak with stats of 20-3-2 (42 pts) in 25 games.
This coming weekend will be a entertaining factor as the Copperheads will travel to Okotoks on Friday night. The Bisons are right behind the Copperheads in standings with a 17-4-2 (36 pts) in 23 games.
Saturday night will be the final home game before Christmas break. Stettler Lighting 11-9-3 (25 pts) in 23 games will be visiting for an 8:30 pm drop at the Snake Pit.
This game will feature a toonie student admission theme night.