Significant wins for Copperheads 
Posted on December 18, 2018 by Sunny South News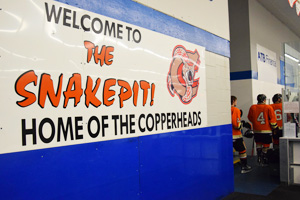 Sunny South file photo
Coaldale Copperheads
Coaldale Copperheads closed off another significant weekend earning two more wins. Snakes are currently on a ten game winning streak.
Friday night they beat the Okotoks Bisons on the road for the second time this season. Bisons slipped behind losing two games the past weeks which sustained the Copperheads staying in first of the south. Friday action there was no doubt that goaltender Nolan Berner was a huge reason for the 5-2 victory.
Jayden Bexte scored the lone goal of the first period. Second period seen Brant Mack collect his second shot rebound and score. Snakes were somewhat flat for those periods until the third when took control of the Bisons. Levi Anderson received the opening goal of the period on a power play. That goal, set a record for all-time Copperheads defenseman total of goals (14) in a season. The previous record was held by local Coaldale product alumni Braden Dyck (13) in 2007. Bexte with his second of the game and Jayden Smith each scored nearing the end of the third to cap off the win.
Saturday night was the final home game of 2018 at the Snake Pit. It wasn't the best showcase of the team but once again boys came to play the final 20 minutes. Stettler Lightning stayed on track with the Snakes pretty close for the first two periods.
After forty minutes the game was tied at one a piece each and shots 21-18 for the home team. Brandy Howg on a slight break away scored the Snakes first. The Copperheads woke up in the third period scoring three unanswered goals. Mitchell Konschuk and Tyler Anderson each had even strength goals. Affiliated player Kole Fujita received his first career HJHL goal. Final score was 4-1 over the Lightning which ended off another strong weekend.
Copperheads have one remaining game next Friday the 21st in Carstairs against Didsbury. It will be one last test to end off 2018.