Copperheads playoffs begin
Posted on February 19, 2019 by Sunny South News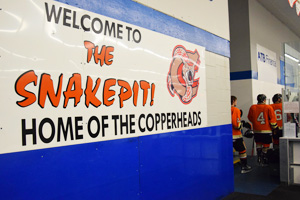 Sunny South file photo
Coaldale Copperheads
Copperheads gaining some extra rest the past week with a bye for the first round of players.
The Copperheads will start round two in a best of seven affair against with what appears to be Medicine Hat Cubs.
The lowest seeded team following first round will be up against the Copperheads.
As of Friday the 15th, Medicine Hat (5th) won their best of three set against Strathmore Wheatland Kings (4th).
The only other team who would replace the Cubs would be if High River Flyers (6th), if they win their series against Cochrane Generals.
As of Friday the Flyers were down one game to the Generals.
Irregardless of who the Snakes will be playing they will have home advantage with opening game one set for Tuesday, Feb 19, at 8 p.m. at the Snake Pit.
Admission set at Adults $8 and Youth $5 (cash only- season tickets no longer valid).
The remaining series games will be announced through the team's media feeds and signage around town.
The tentative dates for home games could very well be: GM3 on Saturday, Feb. 23, at 8 p.m.; GM5 on Wednesday, Feb. 27, 7:45 p.m.; and GM7 on Saturday, March 2 at 8 p.m.
Please note that this article has been updated to reflect schedule changes for the Copperheads' games.