Copperheads leading 3-1 in South Division Final
Posted on March 12, 2019 by Sunny South News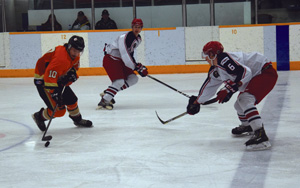 Sunny South Photo by Nikki Jamieson
Coaldale Copperheads
Coaldale Copperheads managed to come out ahead three games to one against Cochrane in the competition for the league south division title opening frame.
Tuesday night at home, the Snakes beat the Generals 5-2, including a hat trick from local boy Chase Williamson. Jared Bainbridge and Jason Creighton had a hot game each with singles.
Thursday night in Cochrane, closing the first period off the Snakes were leading 3-0.
Williamson again scored along with teammates Ty Abbott and Jayden Bexte.
Saturday back at the lively Snake Pit it was an eye opener how a game can change quickly.
Cochrane was leading 2-0 with three minutes left in the game.
A quick turn around with four unanswered goal from the Snakes obtained their third win of the series.
Credit in the goals goes to Brant Mack, Smith, Levi Anderson and  Bexte.
Heading back to Cochrane for Sunday the Copperheads got a taste of the same treatment.
At the ten minute mark of the third the Snakes were winning 4-1.  Even play goals came from Smith and Bainbridge. Two power play goals coming from Bexte and Brandyn Howg.
It was a pile of goals in a spurt starting with the Generals getting a short handed first goal.
Before you knew it the game was tied at four a piece.
With 1:41 left in the game Cochrane took the lead by a goal but seconds later Snakes Turner Sharp scored to tie back up again.
Generals not wanting to get swept scored the game winning goal with .46 left in the game frame.
Following the opening four games the Copperheads are leading 3-1.
Game five will be back at the Snake Pit at 8 pm on Wednesday, March 13.
The Copperheads have the opportunity in the best of seven series to close the match on home ground.