Copperheads' exhibition game a hit
Posted on September 17, 2019 by Sunny South News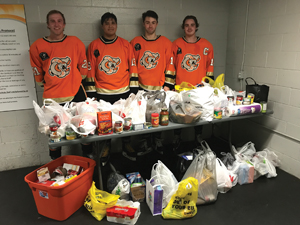 Sunny South photo submitted by the Coaldale Copperheads
First home game of regular season goes Sept. 21
Coaldale Copperheads
It's been a few years since the Copperheads have participated with an exhibition game at home for spectators.
It must of been what fans were searching for as the home attendance was impressive. The Copperheads would like to especially thank those who took advantage of the free admission. The abundance of non-perishable items donated to the Coaldale Food Bank was greatly appreciated.
For opening practice game of the season the Medicine Hat Cubs were the perfect competition.
The game held speed, a couple of tilt matches, and just enough goals to keep the crowd entertained. The Cubs won the game 5-4 after the sixty minutes of play.
Veteran player Jayden Bexte, now wearing a "A" on his jersey, scored the Copperheads first goal of the year.
Rookie from last season, now moving up in the ranks, Jason Creighton scored the second.
Creighton will be an assistant captain for the team  along with defensive veteran Isiah Day Chief.
Taking the captain leadership role is Tyler Anderson who netted the Snakes third.
Bexte collected his second of the game in the final five of regulation. Goaltenders for the evening were Broc Merkl and Brandon Clark.
Sunday the boys headed to Medicine Hat with split duties in net went to Ethan Barrows & Drake Richards.
Cubs poured it on come the second period gaining a lead 5-1 which ended the exhibition game affair. Lone goal was scored by overage player Jedd Horvath.
Mark your calendars, this coming Saturday the 21st is the official league opener at the Snake Pit.
This year the Mountain View Colts will be the opponent.
Prior to puck drop the Copperheads will be doing a brief introduction of their 2019-2020 roster.
Steps to follow fans can witness the team placing the south division title banner in recognition of the past season success.
This will mark the opening night of alcohol sales for the Copperheads along with those opening presentations you'd think it's the place to be Saturday.