Copperheads pointless weekend outcome
Posted on November 5, 2019 by Sunny South News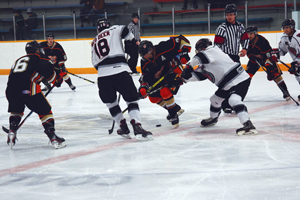 Sunny South photo by Nikki Jamieson
Coaldale Copperheads
Coaldale Copperheads with a past tough weekend took zero points during their two league games.
Friday night the Snakes visited the unbeaten Okotoks Bisons. Within the opening three-half minutes the Copperheads were down 2-0.
Thanks to a power play goal from Brandyn Howg they came within one goal near the end of the first.
At 19:43 left Okotoks popped in another one on a power play. Mid way through the second behind 5-2; the Snakes found some life.
Two quick goals, which were both excellent effort from Ty Abbott & Jason Creighton inched them within reach of turning the game around. Third period seen a lone goal by the Bisons to take another victory(6-3) over the Copperheads.
Saturday night wasn't any prettier on home ground for the team. Red Deer Vipers with numerous past injured players returning to their line up, accomplished their goal of winning 6-2. Mason Sande and Thomas Johnson netted the Copperheads two goals.
This coming weekend will be a busy one; Friday at 8 p.m. to High River, Saturday at home vs Cochrane 8:30 p.m.. Sunday, is a road makeup game in Strathmore at 4:30 p.m. from the past September scheduled "snow day" game.