Exciting weekend for Copperheads
Posted on December 10, 2019 by Sunny South News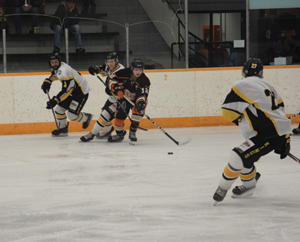 Sunny South photo by Nikki Jamieson
Coaldale Copperheads
It was an eventful Saturday night with the Copperheads starting with a public skate with the Town of Coaldale Christmas community event.
Come the evening timeframe the team helped collect toys for the Angel Tree Christmas Campaign. Special thanks is expressed to all those that participated to help put a smile on a child face.
Strathmore Wheat Kings visited the Snake Pit suffering a 7-4 loss against the home Snakes. Brandyn Howg scored the lone goal in the first for the team with three teammates scoring in the second period. Ty Abbott gained the second goal, with Isaac Benoit, team point leader popping the third of the game. A short handed, unassisted goal from Jayden Bexte earned the Snakes a lead of 4-2 after forty. Strong games for Howg, Bexte and Benoit all scoring their second goal of the game in the third period. Ethan Klemens with hot hands in the assist category collecting four for the team rookie.
Sunday, was a challenging scenario for the team heading north to Sylvan Lake with twelve skaters for the Snakes due to exam week. Opening the scoring with his first HJHL career goal was new addition Kole Fujita, a Taber native. Closing the second period the Copperheads lead 2-1 with a goal from Ethan Klemens. Third goal came from the Copperheads Brandyn Howg. Wranglers found their way back into the game the final minutes of the sixty sending it to overtime. It was Fujita again scoring a big goal twenty seven seconds in to the extra minutes to finish the victory 4-3.
Copperheads final home game of December will be this coming Saturday the 14th. It couldn't be a more exciting match up than the Medicine Hat. You can be sure the Cubs  will be more than ready to play for the 8:30 p.m. puck drop at the Snake Pit.