Copperheads wrapping up 2019
Posted on December 17, 2019 by Sunny South News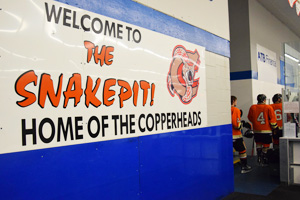 Sunny South file photo
Copperheads return to home ice for a game on Jan. 4
Coaldale Copperheads
With one away game this coming Friday, it will wrap up the Copperheads league schedule for 2019.
Sitting currently in second place of the south division with a record of 17-9-1. It will be a tight race between themselves, Cochrane & Medicine Hat finishing behind the current top Okotoks ( 26-1-0).
The Copperheads lost on the last Friday night to Okotoks 8-3 for the second time this season.
Saturday night was a different scenario at the Snake Pit versus Medicine Hat Cubs. With an excessive amount of drive from the players shown it secured a huge 5-3 victory.
This marks the second league win of the season over the Cubs. Copperheads are back home opening up 2020 on January 4th against the Cubs for another south division rivalry game.
The Copperheads would like to thank wish everyone a very happy Christmas holiday season.