Copperheads Home Opener 2020
Posted on January 2, 2020 by Sunny South News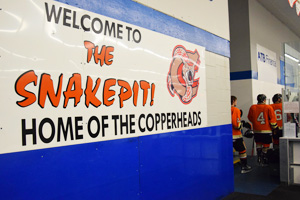 Sunny South file photo
Coaldale Copperheads
Opening off 2020 the Coaldale Copperheads Junior Hockey ( 18-9-1 ) team will start with a road game Friday, Jan. 4, in High River.
Home Opener at the Snake Pit will follow Saturday night at 8:30 p.m. versus the south division Medicine Hat Cubs (18-7-2)  Both teams currently close in points should lead to a super exciting Saturday match up. Copperheads have won both at home and on the road against the Cubs to date.
Reminder following this weekend the Snakes will have only four home regular season games left to use season tickets.