Copperheads start 2020 play
Posted on January 7, 2020 by Sunny South News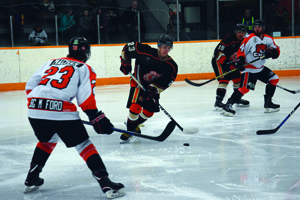 Sunny South Photo by NiKki Jamieson
Coaldale Copperheads
Regular season is winding down for the Copperheads with only three more homes games left at the Snake Pit.
Coming off this weekend the Snake are sitting with a record of 19-10-1. The team will not place in the first place position as in the past couple years. Okotoks should secure that spot with only one loss to date.  Closing the past weekend the Copperheads won on the road in High River 5-1.
Local product James Halverson had his best game of the season with a three point night (1 goal- 2 assists). Jason Creighton coming off a December injury had in addition a strong showcasing with two goals. Singles came from Isaac Benoit, Mason Sande & Tyler Strath in the road affair.
Saturday night it was clear in advance it would be an important home game against the Med Hat Cubs. The first two periods saw the teams tied at the buzzers. Jayden Bexte and Ty Abbott found the back of the net on nifty plays.
The Cubs conquered and took the Snakes for the first time in regular season winning the third period with a lead and open net goal (5-3 final score).
This puts the Cubs ahead of the Snakes with a record of 19-7-2 with two games behind for second place.
Next home game at the Snake Pit is set for Saturday, Jan. 11, at 8:30 p.m. Their closest neighbouring team the Lomond Lakers will be visiting.
Reminder to fans and sponsors to make sure your distributing and using up those game tickets as only valid during regular season.