Coaldale Copperheads start playoffs
Posted on February 4, 2020 by Sunny South News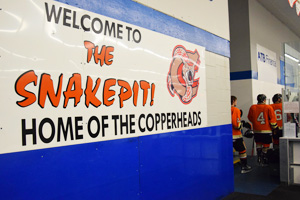 Sunny South file photo
Coaldale Copperheads
Coaldale Copperheads Junior Hockey Team completed their regular league schedule this past weekend with a record of 24-13-1 for 49 points.
This finishes them into a fourth spot in the south division for playoffs.
It has been since 2013 that the Snakes have finished in fourth so been on a strong league run.
Final game of the season seen the Copperheads play Strathmore Wheat Kings taking the game 5-2 on Saturday night.
Previous King player that was added to the Copperheads roster last fall, Isaac Benoit had a terrific game with a three goal hat trick.
Local area player Kole Fujita improving with every game since joining the team had two goals and an assist. Leader Jayden Bexte continued his play-making skills collecting two assists.
First round of playoffs will see the Copperheads in a best of five game series against High River Flyers. Snakes will have home advantage as the Flyers will have finished fifth overall.
The schedule will be announced officially when settled, but Snakes anticipate first two home games might be the 12th and 15th.
Reminder to fans that season tickets will no longer be available for admission. Playoffs will be cash only with pricing of Adults  $10 and Youth $5