Copperheads start playoffs on Feb. 13
Posted on February 11, 2020 by Sunny South News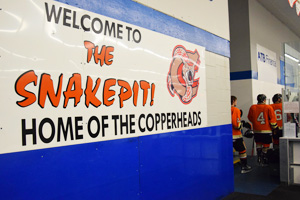 Sunny South file photo
Coaldale Copperheads
It's the best time of year with hockey playoffs starting this week at the Snake Pit for the Copperheads.
The Copperheads are facing the High River Flyers in a best of five game series in the first round of playoffs. Game one will be played Thursday, Feb. 13, at 8:30 p.m. in Coaldale.
The second game will be Friday the 14th in High River at the Bob Snodgrass Arena at 8 p.m. Snakes, with home advantage in the series, will host game three on Saturday night at 8:30 p.m.
If needed, games four and five will be Sunday the 16th at 6:30 p.m., and back home on Wednesday the 19th for an 8 p.m. game.
Fans and supporters are reminded that season tickets are no longer valid. It will be cash only at the admission booth with prices for Adults $10 and Youth $5.