Perry named Rookie of the Year, wins Mark Tennant award
Posted on March 31, 2020 by Sunny South News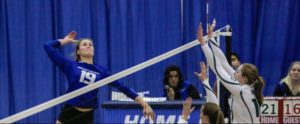 Sunny South photo submitted by Amaya Perry
By Nikki Jamieson
Sunny South News
A former Coaldale student has been named the national Rookie of the Year.
Amaya Perry, a first year sciences student at the University of British Columbia Okanagan and volleyball player, was named the Mark Tennant Award recipient as U SPORTS Rookie of the Year on March 12.
Perry said she was pretty excited and "proud for sure" to have won the award.
Perry first became involved in volleyball when she was attending R.I. Baker Middle School in Coaldale.
Her older sister had played volleyball, and she wanted to make the senior's team at their school, so she began practicing with her over the summer.
"One summer, she really wanted to make the senior team at our school, so I ended up practicing with her all summer," said Perry. "Being a middle child, I wanted to do what my big sister was doing, so I got into it by wanting to be like her and playing with her."
Perry started playing volleyball in grade 6, and played every fall for her school's team since then. In grade 10, she attended Kate Andrews High School, and attended Catholic Central School for grades 11 and 12.
In grade 7, she began playing club volleyball for the Panthers volleyball club out of Chin, Alta., up until her grade 12th year. She continued to play volleyball as she entered university.
She also played for three summers on the Team Alberta Provincial team.
"It was very fun, super developmental. I just learned so much playing with different people around the province, playing with different coaches around the province, and for sure it's a pretty prestigious volleyball group, with some university coaches help, and national players help coaching the teams. So it super awesome and I learned so much every year."
Perry says it's hard to narrow what she loved about volleyball down to one thing, but she enjoys the competitiveness of the sport and the team-aspect.
"Volleyball is a huge team sport; you can't just have one awesome player that will carry your team because everyone has to touch the ball, it's so fast, you have to be ready for anything almost."
Perry had been in Calgary for the National Sports Banquet when she learned she won the award on March 12. Although the banquet ended up being cancelled, her coach had called her to inform her of her winning the U Sports Rookie of the Year award. Her family celebrated the win by going out to dinner then, and right now she is focussed on what is next with volleyball.
"Just keep working hard and see how far I can go for sure."
For those looking to get into volleyball, Perry stays they will have to be prepared to work hard but it will be worth it.
"It just keeps getting better the higher up that you go, so definitely stick with it."