Copperheads readying for fall game play
Posted on October 13, 2020 by Sunny South News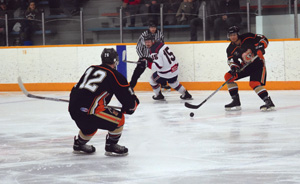 SSN FILE PHOTO
Coaldale Copperheads Junior Hockey Team is inching closer to regular season play. Announcement should be made shortly as to the official home opener Heritage Junior Hockey Game.
Coming up next weekend will be an exhibition set of games against Medicine Hat. Friday, Oct 16 the players will travel to Med Hat for the first game. Saturday at the Coaldale Snake Pit will be a 6:30 warmup/ 7:00 puck drop against the Cubs.
Due to COVID regulations every municipality has various changes to their arena rules. Both locations will only host "home spectators to both set of games. For example- if your a Copperheads fan/supporter don't travel to Med Hat and vice versa.
Coaldale Arena restrictions currently will allow 82 spectators per game not including staff & volunteers. For this first exhibition game the Copperheads will be trying a new process of selling of admittance tickets on a trial basis. Please follow media links with further details. In order to try to be fair to everyone this will be the selling rotation of availability a week prior to a game: Mon/Tues (Players, Families and Staff); Wed/Thurs/Fri/Sat ( Sponsors and Public ) Limit of two tickets.
Adults and all ages tickets are priced at $10 each.