Town of Coaldale's Eastview Park Enhancement Project a resounding success
Posted on October 13, 2020 by Sunny South News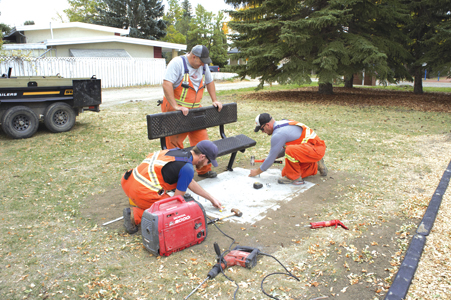 SSN PHOTO SUBMITTED BY THE TOWN OF COALDALE
After two seasons of construction, the Eastview Park revitalization project is nearing completion. This endeavor, spearheaded by the Town of Coaldale and Coaldale Kinsmen, was a collaborative effort that included contributions from user groups, volunteer organizations, local businesses and community members, all of whom played a vital part in bringing new life to one of Coaldale's most beautiful public spaces.
"Before the enhancement project began, Eastview Park had long been identified as a centrepiece of the community with untapped potential," said Cameron Mills, Manager of Economic Development at the Town of Coaldale. "We are always looking for opportunities to get that extra mile out of our tax dollars; by partnering with the Kinsmen, working closely with our local business community, and finding opportunities for grants from other levels of government, we have been able to get more value-added benefits for the community at a much lower cost."
Phase 1 of the project began in 2019 with the construction of a state-of-the-art multi-court facility that incorporated pickleball, tennis, and basketball. Also included in Phase 1 was the installation of outdoor workout equipment and a new entrance pathway into the park. As soon as these new facilities were installed, users began to flock to the park to take advantage of the opportunities to enjoy the space.
Based on feedback collected at public engagement sessions during the spring of 2019, Phase 2 of the project focused on expanding the existing playground structure and adding additional seating and rest areas. To help bring the community's vision to fruition, a covered picnic area was constructed thanks to a donation from KCL Cattle Company, and park benches have been placed strategically around the park. New playground equipment also stands as a central feature to the park design, erected during a volunteer build organized by the Kinsmen.
To elevate Eastview Park beyond expectations, a 3-hole disc golf course was recently installed. To finalize the project, the soccer fields will be repainted and resized in consultation with Coaldale & District Soccer Association. New nets will also be added to replace the old ones.
"Over the past few years, Coaldale has invested significantly in its recreation infrastructure and public spaces," said Mills. "This investment will help to ensure that Coaldale remains an attractive destination for families looking to be part of our growing and vibrant community."