Coaldale Dog Park Receives State-of-the-Art Agility Equipment
Posted on October 20, 2020 by Sunny South News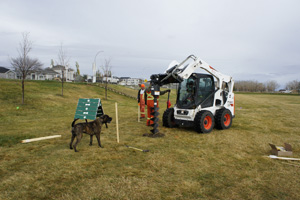 Sunny South Photo submitted by the Town of Coaldale
The Coaldale Dog Park is receiving new agility equipment thanks to the effort of two students from St. Joseph School in collaboration with the Community Foundation of Lethbridge and the Town of Coaldale.
This project was brought to the Town's attention through the students from St. Joseph who were prompted by a school assignment to find ways to improve their community and thought upgrading the dog park would positively impact their neighborhood.
"Town Council encourages active participation from community groups and residents to contribute to the betterment of their community," said Town of Coaldale Mayor Kim Craig. "We commend these students for demonstrating strong initiative at such a young age."
The students applied for a $2000 grant from the Community Foundation to fund the project that was matched by the Town of Coaldale through the Community Grant Program.
The Town's Community Grant funds are collected exclusively from the Town's photo radar program which has generated $156,362 for community projects and programming over the past 4 years.
"Through the Community Grant Program, the Town has been able to fund a number of projects that contribute to the well-being of the community and improve the quality of life for Coaldale residents," said Craig. "The dog park agility equipment is just one example of how resident can influence greater change in their community."