Copperheads back in action
Posted on October 20, 2020 by Sunny South News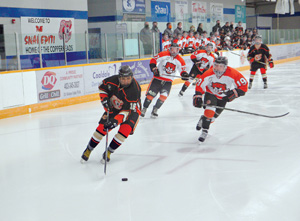 Sunny South Photo by Cole Parkinson
It was finally back to hockey games for the Coaldale Copperheads this past weekend.
The team, consisting of close to the final roster selection, did a home/away set against Medicine Hat Cubs. Friday they were on the road and sent the opening game into overtime. The result ended up a victory, as Mason Sande returning from last season to the roster, scored a beauty finish goal. Copperheads 5-4 win lone goals from Thomas Johnson from last years roster and newly acquired Michael McTighe from the High River Flyers roster. Leader Jason Creighton secured two goals of the evening for a great start of the season. Goaltenders for the Snakes who split the game were Blake Vaselenak and Brendan Stewart.
Saturday night was the first experience of hockey game at the Snake Pit adjusting to the new Covid-19 regulations. One of the major changes was tickets being sold online only to eighty-two spectators (not including the team cohert and volunteers/staff). There was no ticket sales in person as in the past days. All involved had to follow the social distancing steps in place. All in all, besides losing the second exhibition game, it went really well said Director of Operations Kelly Wiebe. "The team is just so happy to be able to play hockey and fans that could participate we're thankful."
Medicine Hat came out more prepared at the Snake Pit winning 6-4. Tenders Ethan Barrows and Cole Tisdale had the honours for the Copperheads. It started out strong in eight seconds of the game Jason Creighton scored with the first shot on net. Creighton scored his second goal mid way through the game. Rookie defenseman Carson Haynes from Taber, scored from the point his first goal as a Copperhead. Fourth goal came from another Taber player Tristan Miller.
From this point, members of the Heritage Junior League are finalizing their league schedules with some changes as announced earlier. Copperheads will be playing against the five other south division teams. Due to Covid cohert rules they will play in "series" two home and two away games against a team in two week period. Following a series the Copperheads will have to take a fourteen day practice break, before playing another series against another team. It will be the same set of rules for obtaining online tickets by following the link on media feeds four days before home games. First series and league Home Opener is set for Halloween night the 31st at 8:30 pm against Medicine Hat Cubs.