Copperheads start Saturday
Posted on October 27, 2020 by Sunny South News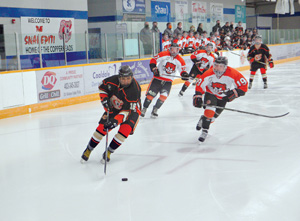 Sunny South Photo by Cole Parkinson
Coaldale Copperheads regular season commences Halloween night at the Snake Pit. A 8:30 pm puck drop against Medicine Hat Cubs will feature the home opener game. Keeping up with tradition, this evening will feature introductions of the new roster and coaching staff. The two teams will play a series against each other (2 home/2 away games) in a two week period.
Few changes this season will be the procedure of ticket sales due to Covid restrictions. Currently, there will be no gate admission sales in person as in the past. All tickets sales will be using an online service through a link on our media feeds 3-4 days prior to home games. Tickets are priced at $10 plus tax each time with a limit of two per sale.
Happy Halloween everyone from the Copperheads! We hope to see you soon.