Copperheads gearing up for tryouts
Posted on August 17, 2022 by Sunny South News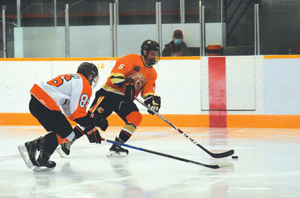 Sunny South Photo by Nikki Jamieson
By Cole Parkinson
Sunny South News
Hockey season is slowly approaching and the Coaldale Copperheads Junior 'B' team is prepping for their fall tryouts.
The team sees tryouts for the 2022-23 season start in September with the main camp running three ice sessions. The first goes on Sept. 8 from 7-9 p.m., the second on Sept. 10 from 3-6 p.m., and the final goes on Sept. 11 from 3-6 p.m. All players looking to try out for the team must pre-register in advance by Sept. 7 at http://www.coaldalecopperheads.com. Players will also need to submit a copy of their birth certificate, a copy of their healthcare card, a complete registration form, a complete medical form, and ae-transfer a $150 tryout fee.
The Copperheads are also looking to fill a few volunteer positions for the 2022-23 season. If you're interested in volunteering this season, contact the Copperheads at coaldalecopperheads@gmail.com.
The Copperheads will kick off their season with a pair of pre-season games before the regular season beings. On Sept. 17, the Snakes will welcome in the Medicine Hat Cubs at 8 p.m. before heading to Medicine Hat the following day to wrap up the pre-season. The regular season then begins on Sept. 24 when the Copperheads play host to the Red Deer Vipers with puck drop at 8 p.m. The following day, the Cochrane Generals come to town for a 5 p.m. game. September wraps up with the Snakes hitting the road on Sept. 30 when they head north to take on the High River Flyers for an 8 p.m. puck drop.
Last season, they finished in third place in the Southern Division with a record of 22-11-3, which was good for 47 points. The Copperheads would sweep the Kainai Braves in the first round 2-0 before being swept themselves by the Medicine Hat Cubs in Round 2. The Okotoks Bisons would go on to win the 2022 Heritage Junior Hockey League banner.