Copperheads begin HJHL playoffs Thursday in Strathmore
Posted on February 16, 2023 by Sunny South News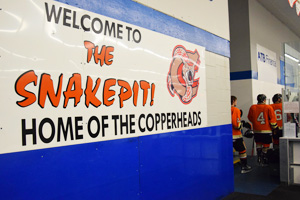 Sunny South file photo
By Garrett Simmons
Sunny South News
It's playoff time for the Coaldale Copperheads.
The puck drops Thursday, as Coaldale will take on Strathmore to find out which team will be able to extend its Heritage Junior Hockey League season.
Game one will be in Strathmore, while Coaldale will host game two on Friday at 8 p.m. The third game of the series is scheduled for Sunday back in Strathmore at 6:30 p.m.
The Copperheads enter the second season after a fifth-place finish in the Southern Division, after the team split another weekend of games to cap the regular season.
Last weekend started with a 3-1 win Friday on the road over High River. Coaldale got on the board in the second period on the powerplay, as Derrien Tonin converted on a feed from Griffin McCulloch. Coaldale went ahead 2-0 as Rylan Bruns scored a goal as Koden Lazar and Drew Constant drew assists.
The Copperheads took a 3-0 advantage in the third thanks to a James Halverson goal. McCulloch had the helper.
High River scored a late goal to spoil Noxon Ordway's shutout bid, as the goaltender made 28 saves for the win.
Saturday was a different story for the Copperheads. Coaldale's solid start quickly evaporated, as the Okotoks Bisons stormed back to take a 7-2 victory.
Kale Amundrud got Coaldale on the board early, as Bruns and Brandon Creighton drew the assists, but a late flurry of Okotoks goals spoiled any opportunity the Copperheads had for an upset. The Bisons scored three times in quick succession to lead 3-1 after 20 minutes.
It was 6-1 after two periods before Nolan Price scored on the powerplay for Coaldale to make it 6-2, as Adam Kennedy picked up the helper. Okotoks added another third-period goal to ensure there was no Coaldale comeback.
Aidan Low faced 36 shots and took the loss against a high-powered Okotoks team that finished the regular season at 35-3. The loss dropped Coaldale to 13-20-5.
As the regular season comes to a close, Krishan Stocker finished as Coaldale's leading scorer, with 39 points on 16 goals and 23 assists. Koden Lazar's 26 points was good enough for second on the team, while Rylan Bruns put up 25 points in 22 games.