Koster's Bakery celebrates 30 years of business in Picture Butte
Posted on November 24, 2021 by Sunny South News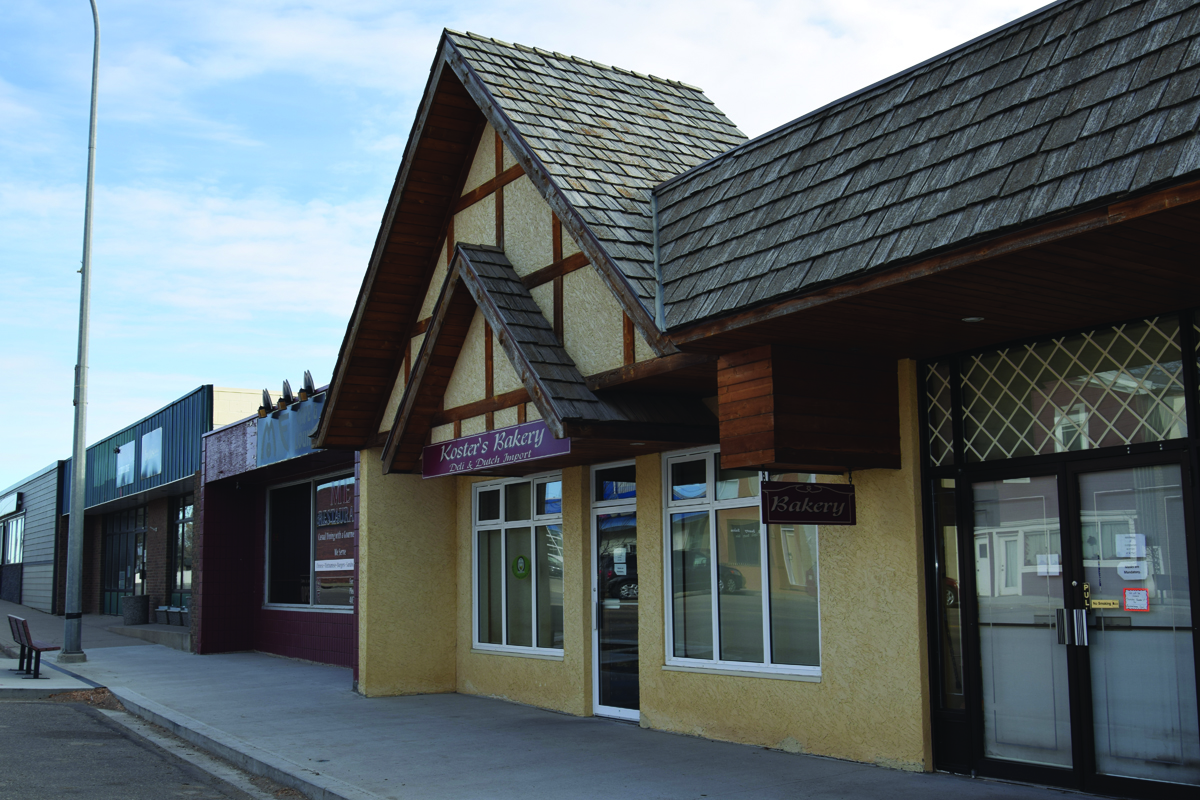 Koster's Bakery celebrates 30 years of business in Picture Butte
By Erika Mathieu
Sunny South News
Koster's Bakery in Picture Butte will celebrate its 30th anniversary on Dec. 10. Thirty years is an exceptional testament to the impact and success of any business, and Koster's Bakery is a business that has thrived at the intersections of community and craft.
Some estimates suggest nearly 20 per cent of all bakeries close up shop within their first year of opening. Products typically have a short shelf life, incur a high cost of labour, and are often threatened by commercial and factory bakeries whose products are mass-produced and sometimes sold for a fraction of the price of conventional artisan bakeries. Susanne Koster, co-owner of Koster's Bakery in Picture Butte, spoke to the longevity of the family business,
Susanne outlined her husband Andy's journey in the bakery business. Before moving to Picture Butte, the Koster's owned a bakery in Edmonton for almost 12 years.
"My husband Andy was born and raised in the Netherlands and he had his baking training there in the early 70s. After emigrating from Holland to Edmonton, in 1976 (he) got his Alberta Journeyman Baker certificate as well."
Susanne added, "baking in Holland was quite a skilled profession. He had four years of training (with) combined theory classes and practical experience. He had a real passion for baking; he just really enjoyed it and he enjoyed both the science part of it and the creativity of making baked goods from scratch."
Andy Koster's dream of owning a bakery was born out of a desire to do what he loved to do.
"It was always just a place to do what he loves," Susanne said. His parents used to tell her that, "baking isn't just his job, it's his hobby, and it's kind of been that way. The bakery was never a place for him to get rich."
Koster's Bakery has retained a local, homemade hand-crafted, and artisan approach to all of their baked goods over the past three decades. She explained that during the 1980s there were shifts within the baking industry that made it more challenging to compete with factory bakeries and in-store operations. After over 11 years of business in Edmonton the Koster's, "made the decision then that (they) really didn't want to fight that type of a baking environment." For Andy and Susanne, the move to a smaller centre made sense for their family and also from a business perspective. Susanne said the tight-knit community allowed for an opportunity to "maintain the authentic, baked from scratch kind of baking."
Koster noted many grocery store bakeries in larger cities were making the switch to bring items in like pre-baked products, which are shipped in from larger commercial bakeries. This typically offers cost benefits to companies, but Susanne said Andy was firm in his resolve to stick to traditional techniques and offer what he believed was "good baking (…) We are very blessed to have staff who also supported our vision of the bakery — that's one of the really important things. The fellow who ran the bakery (before) stayed on when we bought it, and he's been working for us for 30 years as well," added Susanne.
"We've had two other journeyman bakers, one who's been with us for about 12 years now. Their ideas are very similar to my husband's, and (they) have been supportive of the fact that we're not going to go into wholesale baking, buying frozen dough and that kind of thing."
The business has been a staple of the Picture Butte community for three decades.
"One of the great things about operating in southern Alberta in a small town (is that) we do have that community support; we have regular customers who drive two hours to come pick up our products and So there's many familiar faces who have supported us through 30 years," she added."We're at that point where my husband isn't really working much anymore and we're getting to that point where we're looking (toward) retirement." She added, there is a goal to maintain the bakery as a multi-generational bakery, and said her husband has always been the driving force for the bakery's authentic, hand-crafted ethos.
"(Andy) never really changed his vision of what he wants: to be authentic. He wants to bake European style baking."
She explained that was possible through the help of the community, customers, and dedicated staff.
"We've all always been very fortunate to have a very good staff who become part of the bakery. They're not just workers, some have been here for years," she added. "We have a lot of long-term clientele that are not just customers, they're friends and neighbours. We raised our family in this bakery."
Koster concluded, "this is not just a job, but a part of our lives I'd like to just like to say a thank you to the community, to all of our customers and our staff, past and present."