Highest internal honour presented to facility dog and handler
Posted on May 4, 2022 by Sunny South News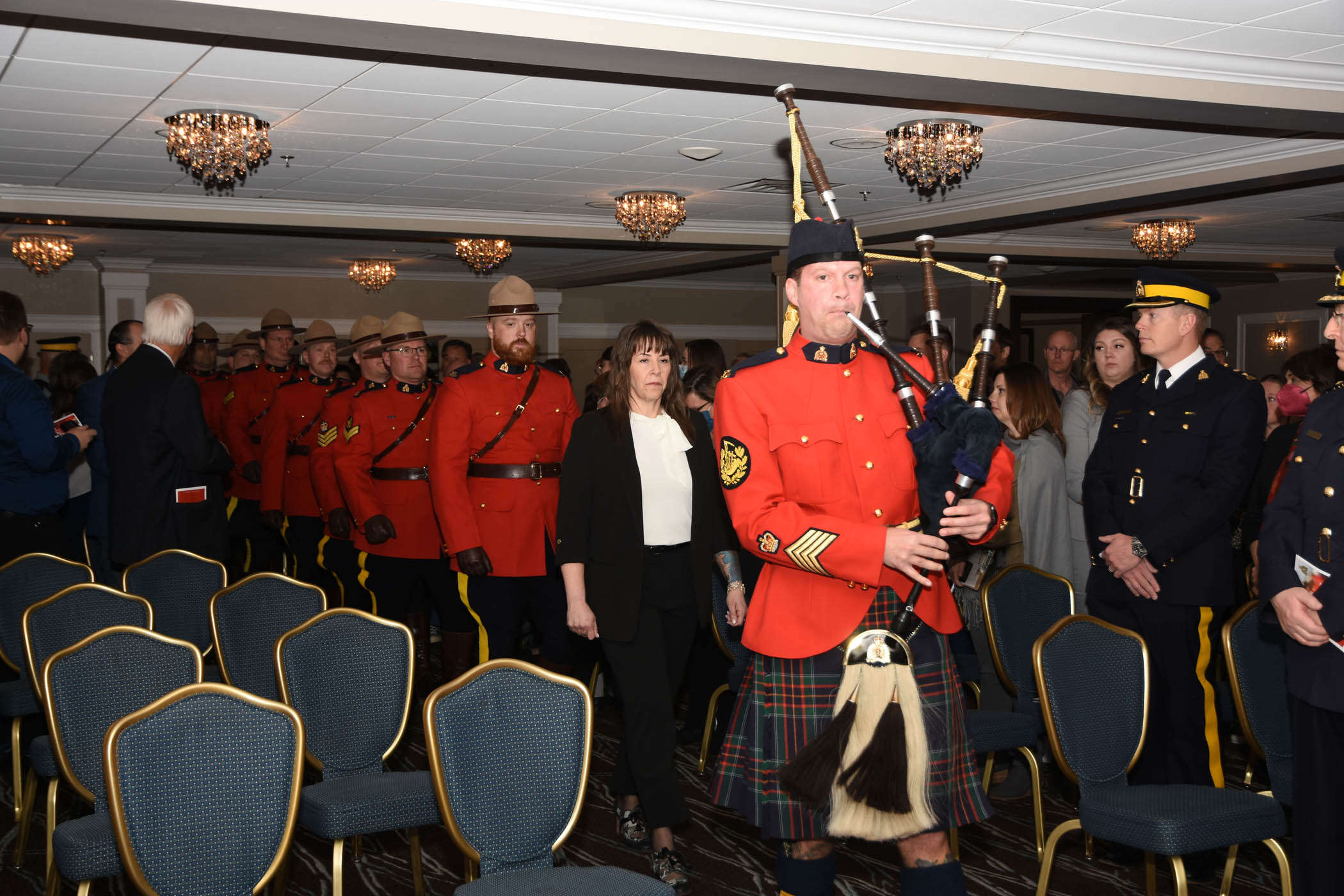 By Erika Mathieu
Sunny South News
Adonus Arlett, program manager of Lethbridge Corridor Victim Services, and Madison, the facility dog, have been presented with a national award, the Commissioners Commendation for Outstanding Service for their dedication and commitment to Lethbridge Corridor Victim Services (LCVS).
Their nomination for Commissioner Commendation was initially submitted by a senior ranked member of the local RCMP. The nomination process requires review at the local, regional, and national levels, and then once approved, the nomination proceeds to Commissioner who makes the final decision. The Commissioner Commendation recognizes regular members of society and civilians who have demonstrated extraordinary courage and bravery, outstanding service or excellence in volunteer activities in a way which exceeds the expectations of their role in society. Arlett, Madison's handler, said she and Madison have been working together since early 2015, and the award and nomination, "is an incredible honour." Arlett has been working with the LCVS unit since 2013, working with vulnerable populations and in the helping field her entire adult life.
Arlett and Madison were formally recognized during a ceremony held in Edmonton on April 14, alongside 16 other extraordinary individuals who have demonstrated exceptionalism above and beyond what is expected in their respective fields. Arlett said, "Madison of K Division is officially commended for her dedication to the Victim Services Program and her perseverance within the Lethbridge Corridor Victim Services Unit."
"Madison is truly the kindest soul you will ever meet," said Arlett of her furry comrade, and reiterated Madison is not, "just a dog," but rather a highly trained and accredited facility dog. Although Arlett said people, "may cognitively understand and support the Facility Dog program; until you see it in action you will never truly appreciate the tremendous impact it has on those Madison and the other facility dogs have supported."
Arlett explained Madison's highly specialized training can help alleviate the side-effects of trauma and encourages individuals to work through the criminal justice system from start to finish. "Whether someone is filing a report with the police, testifying in court, attending the hospital, or requiring additional access to community supports, Madison can be with them," and added Madison has often been present to support individuals from their initial contact with police until the matter is concluded before the courts which can sometimes take years.
While some skeptics may question the efficacy of Madison's work and impact, Arlett praised Madison as a, "silent advocate who is able to provide comfort, support, and empowerment, as no human advocate can," and said the degree to which Madison impacts those she works with, "is just such a remarkable thing to see."
Like many people working or volunteering in the helping fields, Arlett said the heaviness of the work she does can sometimes seep beyond professional boundaries and impact her at home. "Sometimes, as humans, particularly dark moments of individual's story(ies) creep in." She explained she believes accessing professional services such as counselling and critical incident debriefings is an essential part of doing this kind of work.
Arlett said the recognition she, Madison, and the VSU team has received, confirms and validates the impact of their work in communities, both locally and nationally.
Arlett explained her motivation to support individuals dealing with horrific circumstances or challenges is informed by her belief that, "someone's story is not just the incident they are reporting; they are a whole person who has more to offer and often needs to be supported. It is my privilege to stand next to and be entrusted with individuals and their most vulnerable and emotional moments."
"I am starting to see a (cultural) shift. I don't think we're quite there. It is predominantly, statistically, females in domestic violence relationships that are affected, but we are very aware that there is a growing number of men that are impacted by domestic violence as a victim and the agencies we collaborate with are very aware of that, but it's just to remind the community to be on side with that. So I think they're still a lot of awareness that has to happen, but we're not seeing as much resistance," said Arlett.
The cultural shift toward unpacking long-held stigmas and misconceptions about intimate partner violence is fairly recent, and nowhere close to complete. In fact, it was not until the Criminal Code of Canada was updated in 1983, that amendments were made to ensure a person could be charged for sexually assaulting their spouse.
A report completed by Cristine Rotenberg, through the Canadian Centre for Justice Statistics found that from 2009 to 2014, "sexual assault cases experienced attrition at all levels of the criminal justice system." According to this report, utilized by Statistics Canada, an accused was identified in 59 sexual assault incidents reported by police. Of these, 43 per cent of sexual assault incidents resulted in a charge being laid; of these, 49 per cent proceeded to court; of which just over half 55 per cent led to a conviction; of which just over 56 per cent were sentenced to custody. This means statistically speaking, out of every 100 people who have experienced sexual assault, only three victims will see their perpetrators sentenced to jail time. These low conviction rates alone, (in addition to a myriad of other factors) create a high degree of anxiety for victims attending court.
"Madison, helped individuals process their fears and reservations of the criminal justice system, while supporting them through a multi-year process, empowering the individuals to testify in court which resulted in two successful convictions," said Arlett of Madison's impact on the legal process. In these court proceedings, Madison offered victims of violence the necessary biofeedback to help them get through the physically and emotionally taxing process of seeking justice. Arlett explained while in court, if someone is testifying and they begin to get anxious, and are not utilizing Madison as a resource, Madison is trained to recognize these physical symptoms of anxiety and actively try to re-route this anxious energy. Arlett explained Madison may, "nudge at them. She might lick at their leg or give them a little paw to remind them, "remember I'm here, we're here together.'" She added during interviews with victims, Madison will, use the weight of her body, or put her head on someone's knee or on their hand, to provide support during the often overwhelming process.
"That connection; that heat transference, someone feels it. And when they start to get anxious, you'll see them start to pet," and added it is the petting motion which in turn releases some of that anxious energy, "allowing the cognition part of their brain to continue, versus the energy getting frozen and then blocking (them) up," said Arlett.
Arlett agreed barriers are removed when Madison is in on a case, as her nonverbal communication has a profound impact on the people she works with. "Madison often will keep eye contact, even if someone's not looking at them. She'll stare directly out of their face. It's really important for her to say, 'I'm with you and she'll engage that way very strongly'," explained Arlett, adding the unconditionality of the support of a dog plays a big role in this dynamic of building trust."
"They're safety. The dog doesn't want anything from you. There are no conditions."
Despite cultural shifts, Arlett said the LCVS still operates under funding constraints, like many non-profits, which can limit the unit's ability to, "support everyone how we wish we could, if our funds and community resources were available to endless capacity." Arlett said despite this, she and the team at LCVS she is committed to operating and growing the service capacity through ingenuity and resourcefulness, and working creatively to provide support to community members in need, despite financial limitations. Arlett said right now, some funding challenges have impacted the team's ability to fulfill their desired reach within the community. "Unfortunately, it is (a matter of) funding and resources; we just simply need another handler to do the job,"
LCVS has a second facility dog as well, Marley, who is going to take over as Madison enters into a slow retirement, moving away from more intensive in-court appearances to other kinds of work, classified as "lighter" or less emotionally demanding jobs.
Arlett said Madison made her final court appearance last, and will subsequently move away from the heavier cases. "I'm sure she still wants to work, so, we're going to make sure that she gets to do some more but not the heavy stuff."
Arlett said Madison is, "100 per cent dedicated in her moment, but it has taken a toll on her as well. We need to ensure, just like we would any of our volunteer advocates, that she gets a debriefing after a major incident." Which is often in the form of a nice massage, a special treat, or periods of play.
 In the future, Arlett expressed her hopes for improved access to mental health supports and services and spoke in favour of progressing to a point where accessing resources is encouraged and accepted for people of all walks of life. "I think as a community we all need to continue to advocate for more counselling service and easier access to services," she said, pointing to stigma reduction and minimizing financial barriers of mental health services as central components of improving outcomes for people struggling.
Arlett also acknowledged her gratitude toward her, "VSU Family" and expressed "without a committed trained team of volunteers, I would not be able to do the work I do. This is their honour to hold and be proud of." She said the LCVS unit is currently, taking on new recruits to be trained. Interested volunteers can expect a time commitment of around 10 hours each month
LCVS serves the communities of Rural Lethbridge, the County, Coaldale, Milk River, Picture Butte and Raymond.