Coaldale repeals golf cart bylaw after 35 years
Posted on July 6, 2022 by Sunny South News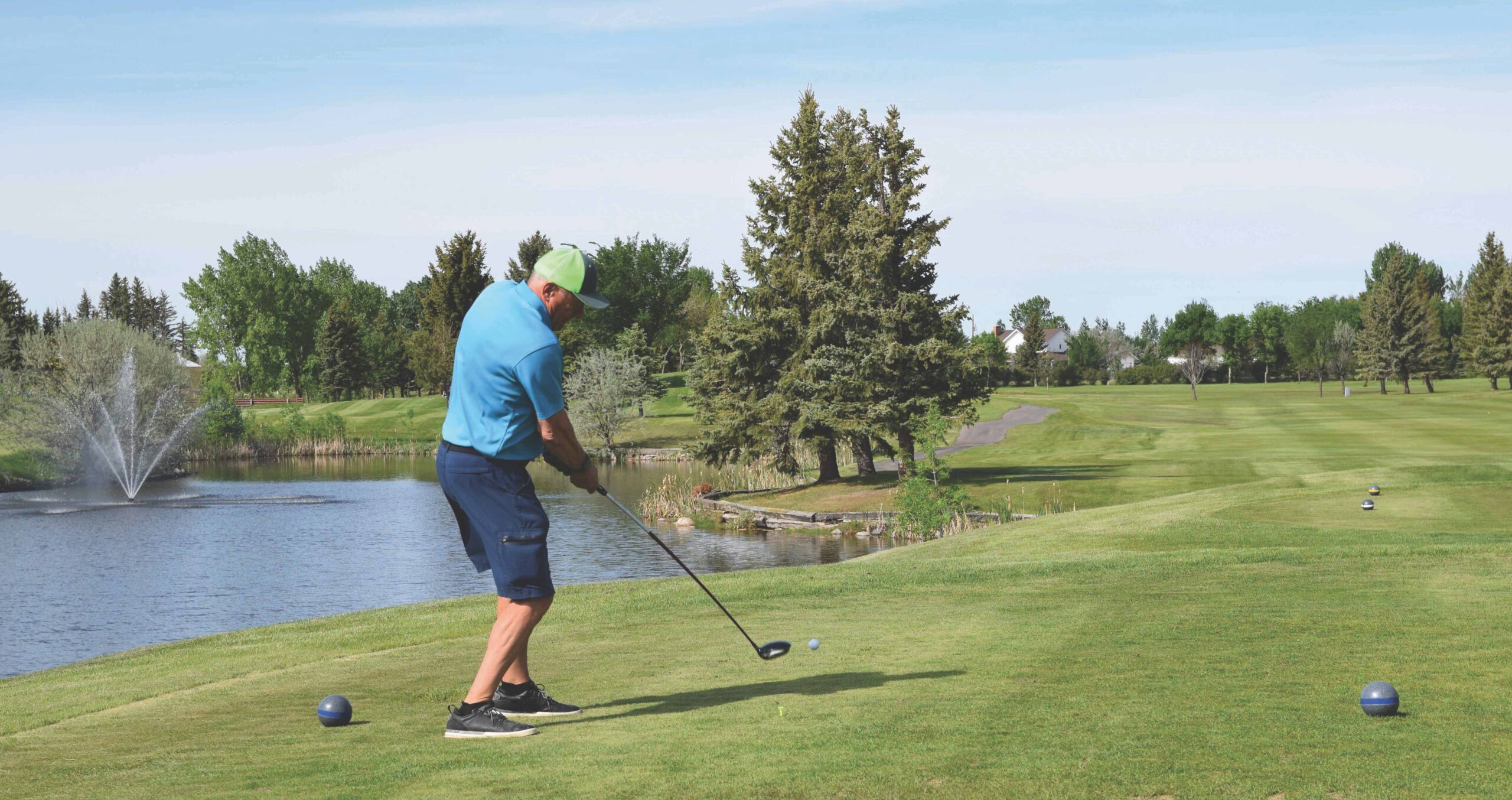 A golfer enjoys a mid-morning tee time at Land-O-Lakes Golf and Country Club. Photo by Cal Braid
By Erika Mathieu
Sunny South News
Coaldale Council has overturned a long-standing bylaw which formerly allowed the use of golf carts in town along Fairway Drive within the housing development of Land-O-Lakes Golf Course.
During the June 28 council meeting, it was revealed the bylaw, which had been in effect since 1987, was not in compliance with the provincial Traffic Safety Act. Under the advice of the municipality's legal counsel, Bylaw 217-R-7-87 was formally repealed.
The initial intent of the bylaw was to provide a framework to regulate the use of golf carts along along Fairway Drive and was passed when the rest of the community was separated from the Land-O-Lakes area. It was revealed that legal advice was sought by the Town for a review of the bylaw in light of observations of golf carts transporting people to and from the golf course. Unfortunately, despite the fact that the bylaw has permitted the use of golf carts in town for 35 years, it was noted legal counsel advised the Town to, "not allow golf carts to drive on the highways or roadways, as it is specifically prohibited under the Traffic Safety Act of Alberta."
Manager of Community Policing, Mark Anderson expressed that residents should be aware of the necessity to repeal the bylaw and offer, "voluntary compliance" with the new bylaw, "to ensure the Town can lessen the impact on one of the major community resources and recreational facilities."
Coun. Chapman, through the mayor, inquired about whether or not it was possible to extend the grace period to the winter to allow residents some time to adjust, but ultimately, the contradiction of the bylaw with the Traffic Safety Act, negates the legitimacy of the bylaw.
In a written release, CAO Kalen Hastings added that "the Town is exploring various options on how to lease a portion of those public sidewalks used as cart paths (holes #11 and #17) to Land-O-Lakes golf course. This will ensure that golf course pathways are in compliance with provincial legislation. The Town's legal counsel has confirmed that as long as proper signage is in place, and golf cart users comply with the safety requirements of the Traffic Safety Act, golf carts will be permitted to continue to cross municipal roadways for the purpose of traveling directly from one golf cart path to another."
Anderson said rather than jumping directly into a punitive approach to addressing the use of golf carts, his team would focus on the, "education piece of it," in the coming months.