Coalhurst close to flipping the switch on their solar farm
Posted on November 9, 2022 by Sunny South News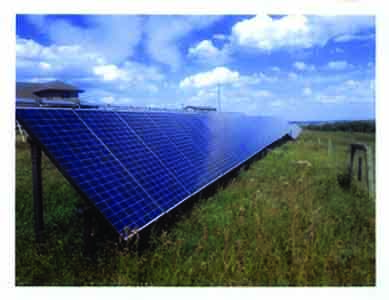 By Kenyon Stronski
Sunny South News
With the line slowly moving towards its end, Coun. Jesse Potrie asked the opening question during the CAO's report at the Nov. 1 regular meeting of Coalhurst town council — inquiring into when a ribbon cutting ceremony would be scheduled for the opening of their new solar farm.
Interim CAO Jeff Coffman noted they're just waiting on some of the final components, and then it'll all be hooked up.
"Then to have the project commission once it's commissioned, council can have a ribbon cutting ceremony. The suggestion was actually made by the director of operations about an extension cord, not connected or plugged into anything, but it would certainly be a different way of visualizing or visually demonstrating that we are cutting the power cord to the grid at least in this particular aspect so once we have a firm commission date I can certainly advise council and then we can get on the process of organizing an actual ribbon cut."
Coun. Heather Caldwell took the stand next, not with a question, but to give thanks for the purchase of a second electronic traffic management device.
"I think that would be very beneficial in our community and the communication of CP Rail. Their time at our entrance has been increasing so any efforts that you can make towards that is just fantastic."
Regarding CP Rail, Coffman noted there's been a structural change to the ways things are run in Calgary and as a result, it's increased the need to switch and move vehicles down south which has led to increased traffic.
"Which means that longer trains are actually being run through here which means pulling up and blocking the intersection in order to move all the cars around. I think we all recognize and respect what CP Rail has to do — grain cars are especially long, but they don't have enough space there as is so we actually, I monitor because I'm a train nerd. I don't sit and stare at it for half an hour but I do keep track of the times and they advise CP. They are aware of it and they do actually respond. The situation on the 26th was actually a little bit unique in terms of the way that it was explained to me and it's a bit of a one-off — they're not sitting there for half an hour. It was tricky because we actually had a dual tractor-trailer parked there who was trying to back up and traffic kept going behind him so I went out and helped him navigate it out in the corner and get on its way. It was just a bit more involved than what they are normally; at least the views from my office so we will continue to communicate with CP and see if there are things that we can do to help."
There are requirements when it comes to trains blocking roadways as Caldwell pointed out, also asking if the federal communication around trains blocking went from a requirement to just a recommendation.
Coffman added he isn't sure, however, he knows there's a requirement about a train being five minutes stopped.
"So, if it takes a train while it's still moving five minutes to cross, that's actually acceptable. Recognizing the speed one needs to use to enter a full year I think it's imperative that we be patient while they're crossing. It's when it's actually stopped and the incident on the 26th, it was fully stopped and it was not moving anywhere for almost half an hour and that's definitely beyond recommendation in my humble assessment but that's definitely the longest one that I've seen since I've been here."
Moving to traffic enforcement, Coffman said the data that's being gathered is not only on the train blockages, but also on road usage.
"Because not only are we monitoring vehicle speed we're also monitoring vehicle movement so it's helping us as well in terms of providing the data necessary for making decisions on road upgrades, paving, safety, things of that nature. It ties into the community peace officer who started today (Nov. 1)."
The new Coalhurst peace officer resides in Lethbridge but was previously working in Pincher Creek, a reality that Coffman states hopefully makes him very happy to begin work in Coalhurst.
"He brings us eight years of CPO level one experience and he has a great field of experience on policy and bylaw development as well and he has taken the time prior to starting to review our bylaws and he has some recommendations to help streamline things both in the government side as well as the operations side. The big thing to note though is due to processes with the solicitor general's office it's going to take us, I have a month in the written report, it's going to be possibly six weeks or longer. There is a process involved in terms of the solicitor general appointing this individual to our community, it can be a smoother process because it's coming straight from another municipality however we are at the whim of the solicitor general so in the meantime he's going to be undertaking bylaw enforcement when he's a full community peace officer he does bylaw as well as the CPO enforcement aspect of it. So he will be out engaging in some of the situations on the issues around, he is available so if people have concerns of bylaw enforcement absolutely he can be taking care of those in the meantime but he's not going to be driving the CPO vehicle, wearing the vest or the badges that say community peace officer. He cannot do that until the province actually appoints him. There's enough to keep him busy, we'd just like him to be busier."