Speed limit survey garners high volume of responses
Posted on February 16, 2023 by Sunny South News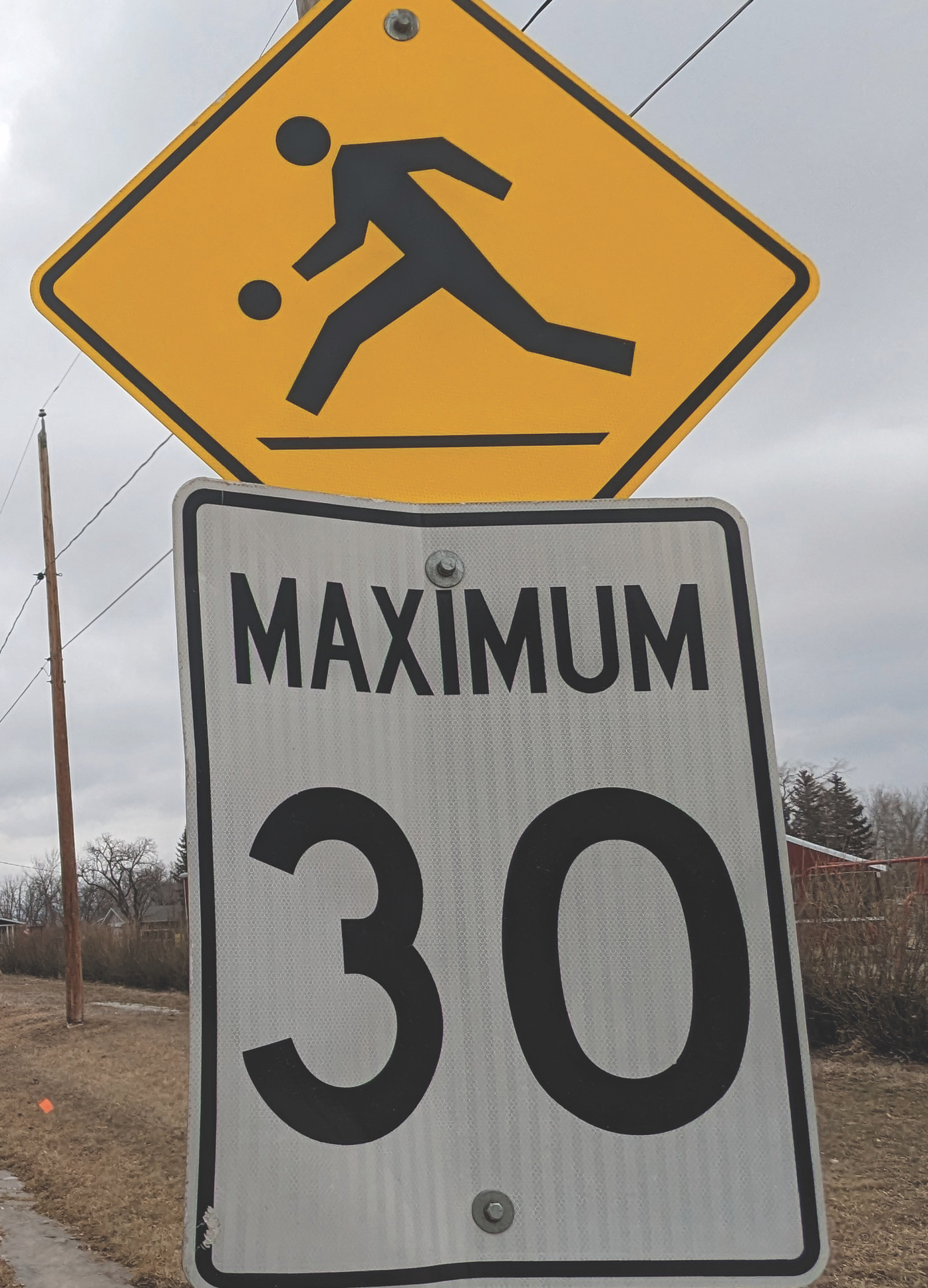 Diamond City: The hamlet has multiple posted speed limits between 30km/h and 50km/h in just a few blocks. The proposed bylaw supports adopting a 40km/h limit in all hamlets in the County.
By Erika Mathieu
Sunny South News
Lethbridge County Council has received the survey results of a recent survey seeking feedback on the County's proposed Speed Limit bylaw (Bylaw 22-018).
Bylaw 22-018 was first introduced in October 2022, where it passed first reading, and was followed by a public engagement survey which ran from Oct. 20, 2022 – Dec. 1, 2022 and garnered over 250 responses.
The County adopted a Traffic Control Bylaw nearly 30 years ago in 1995. Since this time, several amending bylaws and council resolutions have been passed which have created inconsistencies to speed limits across the County. The summary of the survey's objective and results noted, "Speed limits need to have clear parameters and to have a bylaw in place to be enforceable. A speed limit bylaw would look to bring consistency to speed limits throughout the County and give staff direction as to how they will be established moving forward."
Director of Public Operations for the County, Jeremy Wickson noted that, "past County practice has been fairly inconsistent with speed limits. Hamlets right now have a variety of speed limits as well as rural subdivisions and essentially random speed signs in different areas. Prior direction has involved petitions for speed limit changes," in certain hamlets.
Early on in the Feb. 2 council meeting, Coun. Klaas VanderVeen noted, "we have never had this amount of reaction to a survey, so with that I think we can probably base our decision on the survey and I don't think we would need another open house for this particular topic."
Survey feedback indicated 52.6 per cent of respondents preferred a 50 km/h speed limit in hamlets.
Deputy Reeve John Kuerbis said, "appreciating that the survey is based on what our ratepayers would like, I think we as council have to look at the some of our most vulnerable individuals," particularly children within hamlets.
"There is a substantial decrease in the stopping time between 50 and even 40 kilometres an hour and especially 30 km/h." Citing Diamond City as an example, Kuerbis noted, "on any given day there are kids all over the place, and I very much support a lower than 50 kilometres in those areas because I have seen the devastating effects of not having that or people exceeding that."
Council indicated agreement to include lowering the speed limit to 40 km/h in all Hamlets, with the exception of those which have been lowered via resolution to 30 km/h such as in Shaughnessy and Vista Meadows.
Reeve Tory Campbell asked if there was any support from council to consider lowering the limit of road on Highway 512 leading to the entrance gates of Stafford recreation park to 60 km/h.
VanderVeen offered, "that road is very heavily used especially in the summer months and I would agree with the Reeve that (road) should go to 60 (km/h).
For speed limits within Hamlets, 55 per cent of respondents indicated their preferred speed limit to be set at 50 km/h, 27 per cent said 40 km/h, and 18 per cent indicated 30 km/h as their preference. After discussing the safety and implications of 50 km/h County Council agreed the draft bylaw should reflect a 40 km/h limit within hamlets. Exceptions to this are for hamlets and rural subdivisions which have already been implemented by way of resolution, and 30 km/h limits, such as in Vista Meadows and Shaughnessy.
Council agreed industrial park speed limits should be set at 50 km/h, supported by 69 per cent of survey respondents who indicated this speed limit as their preference. Council accepted the survey responses as information.
Bylaw 22-018 will be brought back before council again during the March 2 meeting of council for consideration of second and third reading.
Full survey results can be accessed in the Feb. 2 council meeting agenda package online at https://www.lethcounty.ca/p/council-meetings.