GAF update received during Nobleford council
Posted on March 7, 2023 by Sunny South News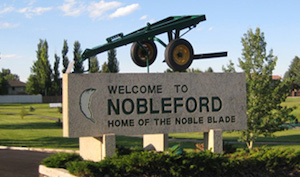 By Nikki Jamieson
Sunny South News
The following are selected briefs from the Feb. 28 regular meeting of Nobleford town council.
Open Floor for Town of Nobleford Residents
Don McDowell, vice-president of Green Acres Foundation, gave an update on recent happenings with the foundation.
• No word on the assessment for Rose Butte Apartments in Nobleford, and another inquiry was sent out to Edmonton, which they are still waiting to hear back from.
• Abby Road Terrace Art Project is on schedule, with the first section scheduled to open in June. It is located at 18th Street South, between 6th and 5th Avenue.
• The Town of Coaldale has asked for another GAF building, and is getting ready to do a needs assessment.
• The Town of Coalhurst is back on Green Acres radar regarding a GAF facility. While a preliminary design was discussed three years prior, it had contained low-cost apartments, and the council at the time did not want to go in that direction at the time and the project was terminated. The new Coalhurst town council has revived the project and it is in the early stages of discussion.
• They purchased a school yard, located at 8th Street South, south of 10th Avenue, which will go into their land bank.
• While they did not get their expected visit from Jeremy Nixon, Minister of Seniors, Community and Social Services for Alberta, to Piyami Lodge, they did get a video conference. MLA Joseph Schow was also in attendance to the video conference, and funding for the project was discussed. Due to miscommunication over funding issues, a deadline was missed in January for provincial funding, and they are asking for title transfer and a corresponding grant for the project so they can move forward. McDowell said the Piyami project is shovel ready.
An unidentified resident inquired regarding about the Subdivision application that was before the Municipal Planning Commission, which met before the council meeting. Council informed the resident that it was part of the conditions for approval, and was discussed during the MPC meeting.
An unidentified resident raised concerns over speeding traffic in the 50 km/hr spots along Highway Avenue, asking for increased enforcement and for the town to make the entire street 30 km/hr, citing safety concerns. Council took his concerns into consideration, and administration made plans to invite the local RCMP staff sergeant to attend an upcoming council meeting.
Financial Reports
Council received the Accounts Payable Ratified report for information.
New Business – SAEWA
Town CAO Joseph Hutter reported he hadn't yet received information from a SAEWA meeting that day.
Coun. Bill Oudshoorn gave an update regarding SAEWA, which included that the organization currently has 50 member municipalities. Additionally, they have chosen Hitachi Zosen Inova as their Energy-from-Waste Partner, and are looking at establishing an MOU with the company, with the hope of having an answer from them in six months.