Figure Skating show brings the heat
Posted on March 15, 2023 by Sunny South News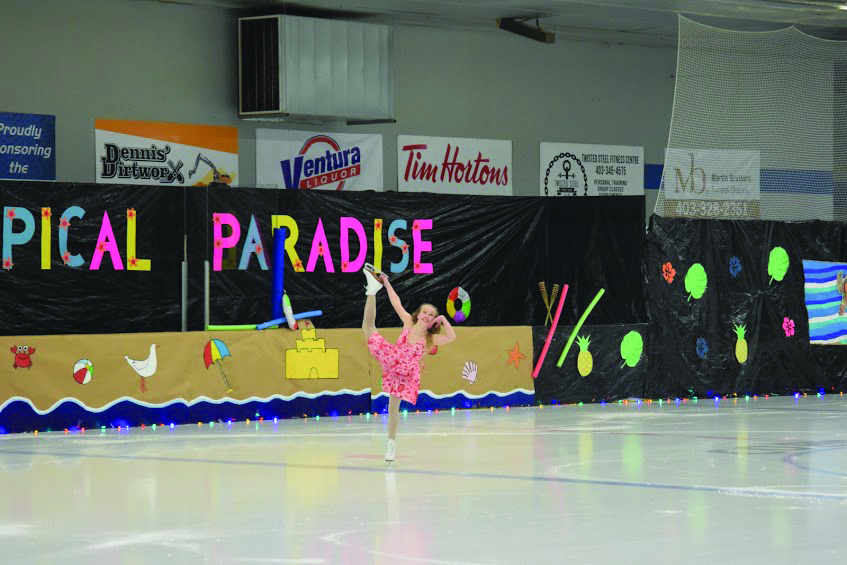 Photo by Erika Mathieu. Tropical Paradise: The CFSC's annual showcase saw performances from many talented skaters.
By Erika Mathieu
Sunny South News
Figure skaters in Coaldale took their audience on a tropical journey this past Saturday.
On March 11, the club hosted their annual carnival at the Coaldale Recreation Centre.
This year's carnival featured dozens of skaters from the Coaldale Figure Skating Club's PreCan, CanSkate and StarSkate programs, ranging from ages 4-17. this past season saw over 100 skaters registered in the program this year. The organization said several of the club's skaters attended the "Frozen Fest" and Chinook Open competitions in Lethbridge as well.
"For our Pre-CanSkate, and CanSkate there are program assistants (PA's) who help the coaches. These PA's are older skaters from our StarSkate program, and without them we wouldn't be able to allow as many skaters to register," explained president of the CFSC, Carla Ens.
This season, special guest stars included the the Lethbridge Synchro team. After a short hiatus due to pandemic restrictions, the carnival showcase returned in 2022 to showcase a program originally planned for 2020. This year, the event saw brand new elements performed for the first time, including a group number performed in the dark. The club also noted this year included a lot of routines which the skaters choreographed or heavily contributed to themselves.
Putting on the yearly showcase takes a ton of work. Ens explained volunteerism is vital to the organization.
"Volunteerism is the Coaldale Figure Skating Club. Without volunteers our club would not operate, as our coaches are the only ones who are paid. The club has a board of eleven members who ensure that the many branches of the club run smoothly. We also rely on parent volunteers in order to be able to have our year-end carnival.  Each family is required to volunteer for a four hour block. Roles such as decorating, helping on picture day and making costumes are examples of carnival related jobs," said Ens.
Ens said the club made strides this year developing the Powerskate program. The club was also successful in several grant applications which will help the club's skaters increase their technical abilities. Ens said the funding has allowed the organization to purchase a jump harness, which will be installed in the skating off-season for use next year.