Picture Butte Fish and Game install multiple hen houses to boost waterfowl production
Posted on April 5, 2023 by Sunny South News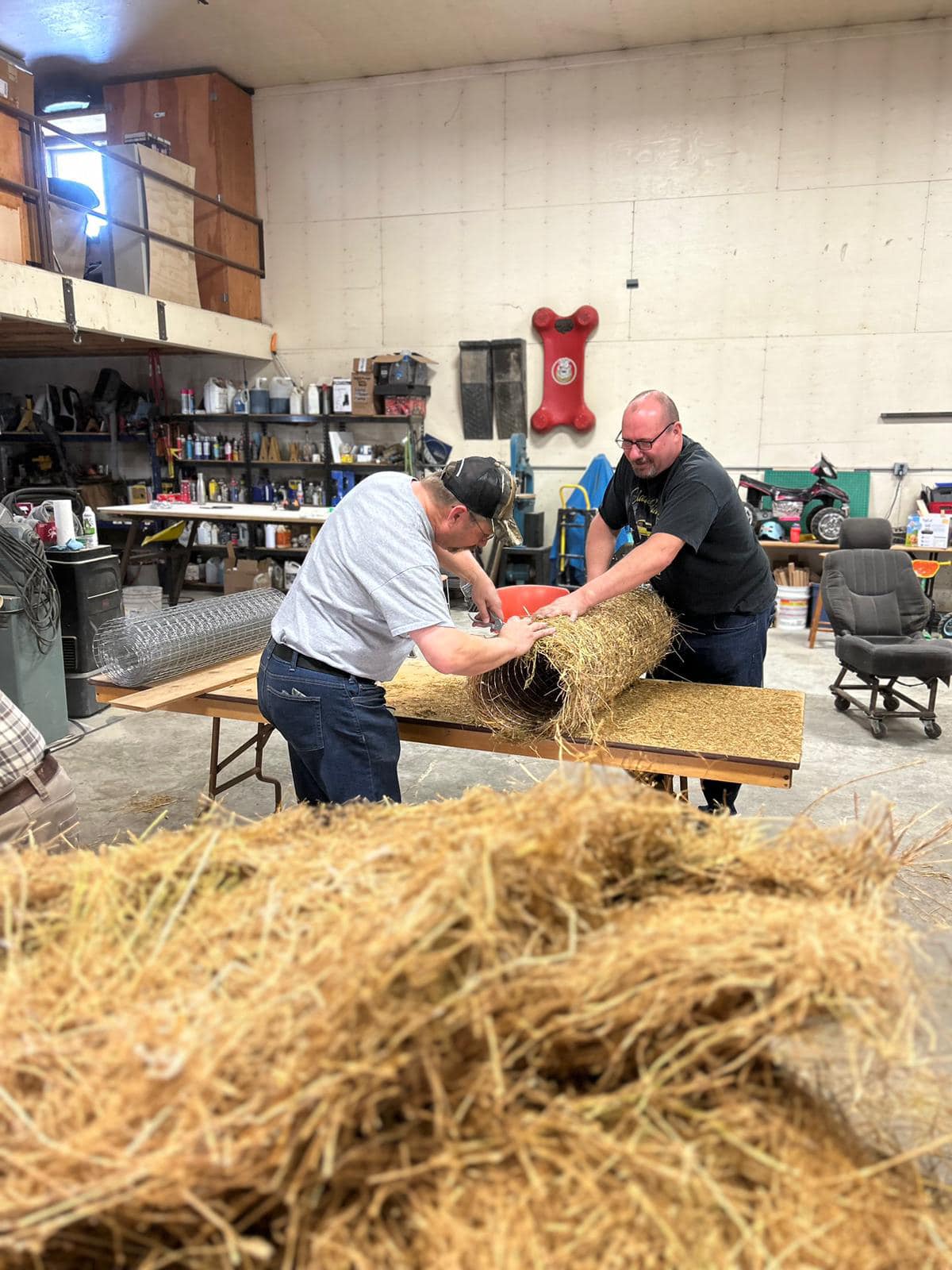 PBFG volunteers hard at work constructing Hen Houses.
By Erika Mathieu
Sunny South News
Picture Butte Fish and Game (PBFG) have donated 12 hen houses to Delta's "Million Ducks Campaign," in partnership with Delta Waterfowl.
The campaign spans across North America with the goal of producing 110,000 hen houses and over one million ducks annually.  The hen houses are constructed out of steel fencing, pipes, and straw to form a "nesting tube" on bodies of water such as the Coaldale wetlands, and the Picture Butte Reservoir. According to Delta Waterfowl's Spring 2022 edition, hen houses boost nest success to more than 60 per cent, and frequently up to 80 per cent.
On March 17, the PBFG rounded up a group of volunteers to get to work. Donations for materials were provided by Hank's Feedmill Service, RCL, and flax straw from Kolk Farms. Six of the structures have since been installed at the Picture Butte Reservoir.
The hen houses consist of an eight-foot base pipe. One bolt or wire lock secures the 30 inch adjustable insert pipe in place to support the 18 inch cradle support pipe. The actual cradle is made of two 20 inch steel rods and 7' by 3' section of welded 14 gauge wire fence mesh creates the structure for the nesting "tube". Using grass hay as nesting material, flax straw is also rolled between the layers of mesh and secured with 12 hog rings.
In a 2023 article penned by Delta Waterfowl's CEO, Dr. Scott Petrie, titled "Conservation Paradox: Hunting Makes Ducks", research out of the Cornell University Lab of Ornithology showed "alarming" declines to over half of the selection of 259 bird species across the U.S. However, the data shows this is not the case with duck species, which Petrie said, "continue to thrive (…) thanks in large part to concerned hunters." The article notes  these production efforts which ensure sustainable duck populations for future hunting, is also a win for conservation.
"On average, a mallard hen using a hen house is 12 times more likely to hatch her clutch (collection of about eight to 13 eggs) than one nesting in the uplands of the Canadian Parklands."
In addition to ramping up the success rate of nests, the structures are also effective in boosting overall hen survival. The publication cites over 30 years of internal research as proof the hen houses are the most efficient and cost-effective strategies to create more robust mallard production in the Prairie pothold region. Delta Waterfowl's research attributes a 20 per cent increase in mallard survival rates to hen houses, versus those nesting in uplands.
Although the structures require annual maintenance, the nests are seen as a low-cost solution for ensuring duck production and stability for duck hunters. Once the ducklings have hatched and are ready to leave their nest, they must make their way to the water; a journey on which they face a high risk of being preyed upon. In this ordinary commute, it is estimated that less than five per cent of those birds successfully reach the water and are often snatched up by ground predators such as weasels, raccoons, and snakes, or overhead predators like magpies, crows, and hawks.
The PBFG were eager to get involved and provide another benefit to the "Walk on the Wild Side Foundation" (WOWS) which recently installed several viewing scopes along the pathway, courtesy of grant funding.
The PBFG said the nests will also add value to community members enjoying the reservoir, and the WOWS pathway project in Picture Butte. WOWS recently installed viewing scopes, so visitors can observe wildlife more closely from the trails.
A statement from the PBFG said in addition to aiding in duck production it, "will give people one more thing to look at," as they enjoy the wildlife in town.
To learn more about the ongoing research and work being done by Delta Waterfowl, visit
https://deltawaterfowl.org/million-duck-campaign/, or to stay up to date on initiatives and events spearheaded by the Picture Butte Fish and Game Association visit https://www.pbfishandgame.com/, or follow on Facebook.