FortisAlberta holds open house at new net zero building in Coaldale
Posted on April 25, 2023 by Sunny South News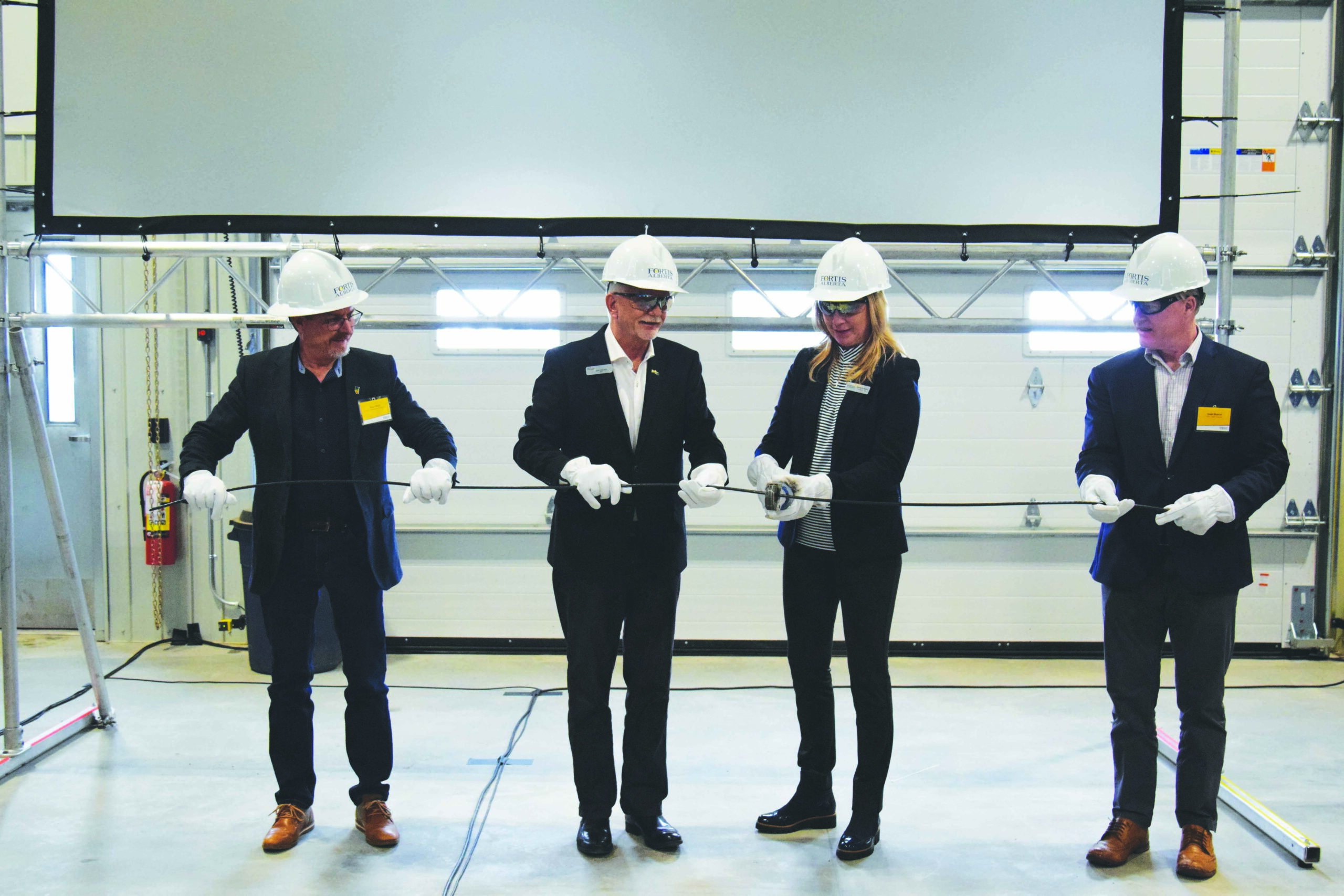 Wire Cutting: (L-R) MLA for Livingston-Macleod: Roger Reid, Mayor of Coaldale: Jack Van Rijn, CEO and President of FortisAlberta: Janine Sullivan, MLA for Taber-Warner: Grant Hunter "cut the wire" to celebrate the completion of the new Net Zero FortisAlberta facility in Coaldale.
By Erika Mathieu
Sunny South News
Over 100 people gathered in Coaldale at the brand new FortisAlberta facility on April 20 to celebrate energy innovations in southern Alberta.
In addition to the new Waterton Battery Energy Storage System (BESS) project which will provide needed solutions for the Waterton townsite, FortisAlberta held a "wire cutting" ceremony to celebrate the brand new net-zero facility located on 6.7 acres of land in Coaldale's industrial park.
In February, FortisAlberta relocated its operations centre from Lethbridge to a more centralized location in Coaldale which serves an area of over 9,000 square kilometres and provides electrical distribution services across multiple counties and nearby municipalities of Picture Butte, Coaldale, Nobleford, Taber, Coalhurst, Barons and beyond. Of the 40 service areas in Alberta, the area serviced by the Coaldale site encompasses over 21,000 sites and 9,400 km. The service shop employs power line and metering technicians, designers, planners and support staff.
President and chief executive officer of FortisAlberta,  Janine Sullivan said, "we wanted to close that office because we were seeing what was happening in Coaldale, what was happening with agri-foods," noting the recent irrigation projects and the $600 million investment from McCains.
At over 19,000 square feet, the Coaldale facility employs 32 locals and is powered by solar arrays located on the top of the building and back of the property. The facility meets the Zero Carbon Building™ standards of the Canada Green Building Council. According to these parameters, a zero-carbon building is "highly energy-efficient and minimizes greenhouse gas emissions from building materials and operations."
Mayor of Coaldale Jack Van Rijn said, "The town of Coaldale is very fortunate to have FortisAlberta relocate their operations to our community. It's a huge win not only for the town of Coaldale but also for southern Alberta, and the fact that they built a building of this size and the fact that it's going to have a zero carbon imprint on their operations here in Coaldale is a win-win for everyone."
Sullivan said with the completion of the Coaldale net zero facility the company has gained, "a lot of intelligence to go back to customers who are looking to adopt these (emissions) standards and let them know what it really means to be fully electric."
Sullivan commented that recent legislation has opened up the concept of what the industry refers to as distribution roadmaps used by utilities such as FortisAlberta which demonstrate how the energy grid, "needs to change to support projects that our customers are wanting in a clean energy environment," and said FortisAlberta engineers are currently working to finalize a company roadmap. Sullivan said the roadmap will be brought to, "customers, regulators, and governments to say, 'look (at) this under various scenarios, is what we see happening, and with our customers with standards with clean energy targets, and this is what we think we can do in a very systematic and cost-effective way'."
Van Rijn told guests at the open house, "the fact that FortisAlberta has chosen Coaldale is a testament that shows that we are doing it right, too, when it comes to attracting investment."