Youth entering firefighting through Coaldale academy
Posted on June 15, 2023 by Sunny South News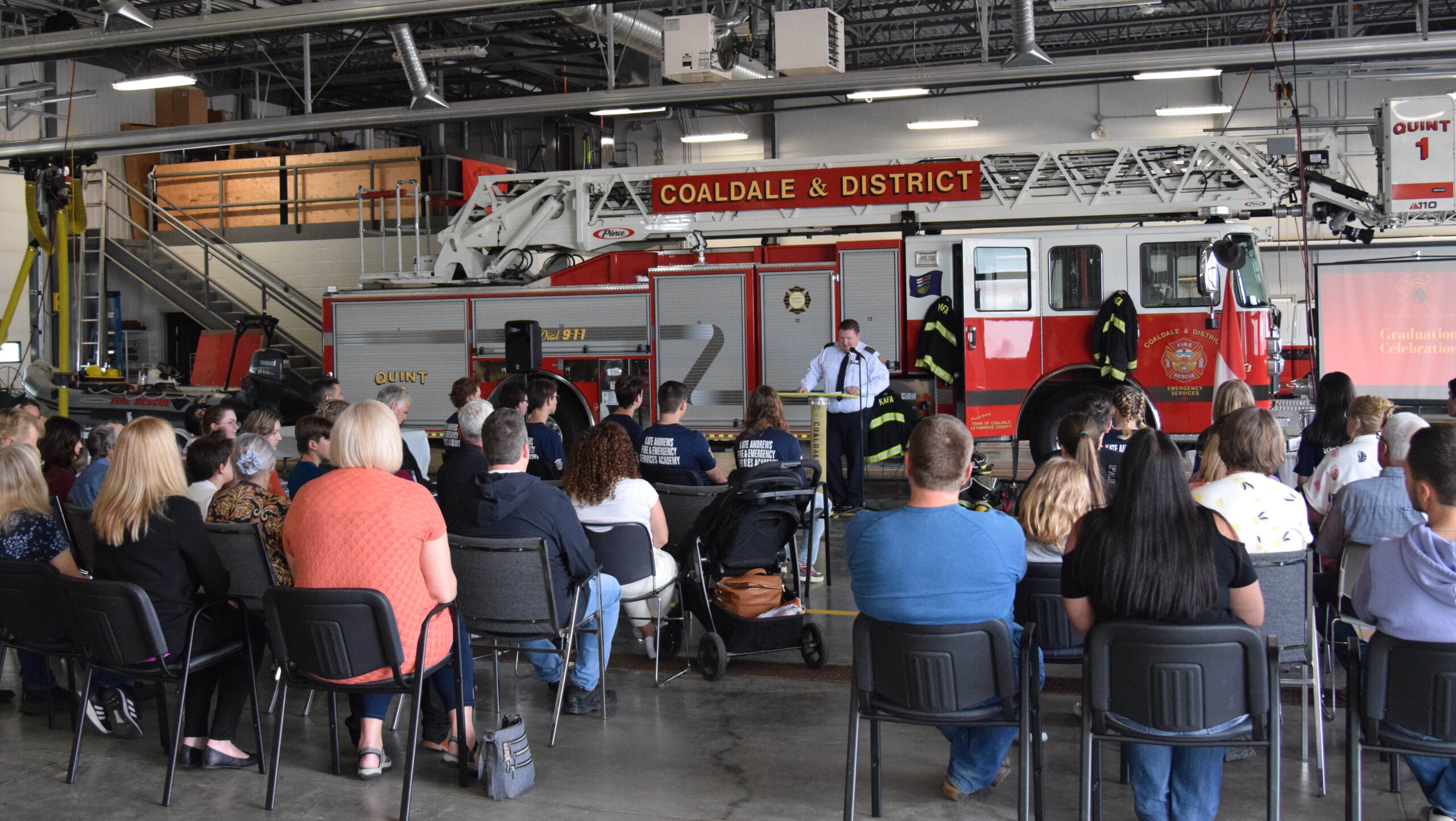 By Erika Mathieu
Sunny South News
Kate Andrews Fire and Emergency Services Academy (KAFESA) class of 2023 graduates were recognized and celebrated during a ceremony at the Coaldale Fire Hall on Friday.
In attendance were graduates and guests, Coaldale and District Emergency Services (CDES) staff, board members and staff from Palliser School Division, Fire Chief of Coaldale, Clayton Rutberg, and former Chief of Coaldale, Kevin McKeown.
This year, 12 students walked across the concrete equipment bay at the Coaldale Fire Hall and officially graduated from the academy. The program has been in operation for four years. Fire Chief Clayton Rutberg said, "There is a lot of resources that go into this program," from instructors, staff, the Town of Coaldale, and the Palliser School Division adding the students in the program, "put a lot of time and effort into this. They work hard at it," spending anywhere from four to five hours every Friday afternoon practicing various skills and learning different fire, EMS, and emergency management skills.
Despite transitioning to a new role as Deputy Fire Chief in Lethbridge, Coaldale's former fire chief and director of emergency services for the Town of Coaldale, Kevin McKeown, is a lead instructor for the academy, and helped get the program operational four years ago. McKeown said other municipalities have taken note of the academy in Coaldale and are using the KAFESA as a blueprint.
McKeown thanked the graduates and said, "I get a lot of inspiration from working and instructing the fire academy classes and you all renew my faith in the next generation of people who will be working in fire and emergency services," and encouraged the graduates to, "keep that same drive," they have shown in the program and apply it to their future endeavours.
As part of the ceremony, the Captain Wilson Memorial Scholarship was awarded to Cyane Byam-Grabowsky for her work in the academy. The recipient of the scholarship is chosen by instructors of the academy for individuals
who embody the hard work and dedicated service of the late Captain Craig Wilson, a local hero who passed away after a brief battle with cancer in December 2021 after giving over 30 years of service to CDES as a respected community member. The Full Contact Firefighter award was awarded to Ethan Moulton and Lesley Roszell who were selected for "never giving up, and always stepping up."
This summer, graduates Ben Lorge and Jamie Tolley of the academy will join the CDES team as interns for July and August, where they will gain valuable real-world emergency services experience.
Students who attend both years at the KAFESA earn their medical first responder certification as well as their basic firefighter NFPA 1001 and Hazardous Materials certifications.