It's been a good read for Coaldale's head librarian
Posted on March 25, 2015 by Sunny South News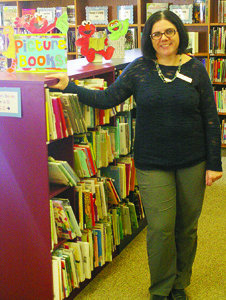 By Stan Ashbee
Sunny South News
A library is the ultimate place to go to learn about everything and anything.
It allows community members to take out books to read, movies to watch, music to listen to and it provides a plethora of services including free Internet to connect to the world, a venue to view local art and a place to take classes or learn something new. At the helm of the original information superhighway is the librarian.
For over three years, Heather Nicholson has been the Coaldale Public Library's head librarian but her stint comes to an end in town Apr. 1, as she moves onto a new library opportunity in Sherwood Park, located in Strathcona County.
"It's a much bigger library. There's about 100 employees. Not as big as Lethbridge," said Nicholson.
Nicholson noted she visited the library before and heard it was a lovely and innovative library.
"It is — not just the physical building is nice but they also do quite a bit of innovative things and I've actually borrowed ideas from them over the years. When I saw this position come up — it's not like I was done with Coaldale and I'm going to look for a new job — it was kind of like, this kind of looks interesting," said Nicholson.
Some perhaps unknown historical facts about Nicholson — the Coaldale Public Library's Jill-Of-All-Trades, so to speak: Nicholson finished her Master of Library Science in 2011 and worked in a temporary position briefly at the University of Lethbridge. Nicholson was also previously a junior high social studies teacher before taking the plunge into the library life.
"Coming here was really a gift, in lots of ways. To be fairly fresh out of library school and get to be the head librarian. In school, you kind of get all these ideas and you think it will be years before you will be actually in a position to try things out but I was really fortunate to end up here." said Nicholson, joking the library has sort of been her library laboratory of sorts.
Nicholson added the board and staff have been really supportive with the opportunity for Nicholson to try new things.
"For me, it was just amazing to get to try out a lot of my new ideas. They didn't all work but a lot of them did. I feel really grateful because I got a really great breadth of experience," she said.
For now, the Coaldale Public Library's board is in the hiring process of finding a new head librarian.
According to Nicholson, who has also been a contributing columnist to the Sunny South News, she has been really grateful to the community.
"People have been really, really welcoming and positive about some of the ideas and changes I've brought. There's a lot of people that I'm really going to miss. It's amazing working in a library, how much you sort of get to know people's lives because people come to the library when they're researching changes in their lives or going through difficulties. It's kind of more than you'd expect. You kind of get to see into people's lives in good times and in difficult times. I feel sort of privileged — the things I've been able to share with people and I'll miss that," said Nicholson, adding the library has also had a good relationship with the County of Lethbridge Community Learning Council (CLCLC), which has an office located in the library.
"I really think that working with them has enabled us to provide better services for sure to the people in the community and I'm sure that relationship will continue and grow," Nicholson added.