Nobleford's Get To Know You
Posted on September 15, 2015 by Sunny South News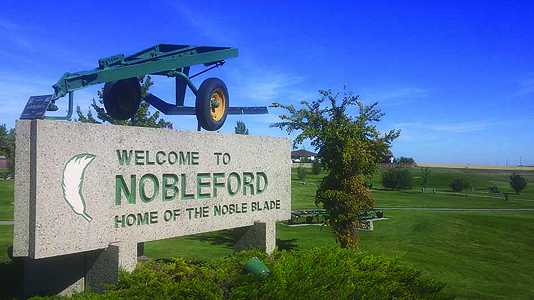 Sunny South File Photo
By Stan Ashbee
Sunny South News
Nobleford has plenty of businesses to cheer about.
Last Thursday, the Village of Nobleford's Community Complex Society held the very first Get To Know You 2015 trade show.
"For the most part, I think it went very well. I had rented 22 tables out of a possible 40. So, just over half. Only 21 vendors showed. Nine of them were no pay vendors, they were societies and stuff like that and the others were paid vendors," said Joyce Holinaty, secretary of the society, adding the trade fair was open to every business in Nobleford including home-based businesses.
Candle or cosmetics companies, food companies and the like were invited to attend the event and even trades people from the village including plumbers, pipe-fitters, electricians and contractors were invited to come out but many didn't attend.
"I would have liked to seen those tables out there to create more of a trade show, so you know what it is your neighbour can offer you because there's a pile of businesses in this community nobody knows about," she noted.
Holinaty said she heard one person at the event comment about not knowing a Watkins dealer was in the village.
"When I went and spoke to the Watkins person she said, 'that's a little disappointing because I market as much as I can and I have the whole time I've been here.' I said, you know what, you still missed some people and these are people active with social media and somehow they missed that," she explained, adding there wasn't as great as a turn out of the public either.
"That's a bit disappointing because we did blitz the entire residential through the post office and all of the businesses," she said.
Sadly, the group didn't get a single reply from retail-type businesses within the village, according to the organizer.
"And, that's disappointing but it is something we're going to continue to do. We hope it to be an annual event. We did have some discussion about perhaps a little bit later in September might do. Perhaps we shouldn't do it for a couple of hours, maybe we should do a Saturday the middle of September, once children are in school and actually make it an entire day event. It's a lot of work for people who set up a table and it's only for two hours," she said. "It is what it is and we'll just carry on."
Holinaty believes the community is a tad bit disjointed and relies on connections made amongst its citizens within clubs and the like.
"But, altogether, we don't have a community directory and maybe that's part of our role, as a complex society. To try and bring that information all together and take responsibility for doing a printed copy of a directory — a Welcome Wagon-type of thing. It's been tossed around but it's not something we have ever tried to delve into because we don't have very many members," Holinaty said.
It is hoped, the Get To Know You show will continue each year and there was pre-registration at the event for the Christmas show on Nov. 28, which Holinaty said will be a big craft and trade show.
"As far as I know, it will be the first time we've ever actually had a Christmas show. There's been a spring and a fall trade fair but there's never been something like this. We made a few connections even with the school. Sometimes society members, not just ours, but others — their kids are grown up and gone and you lose your connection with the school unless you know somebody there. I made a few of those connections and hopefully we can carry them through, so we can be a part with fundraising activities for the school. The class of Grade 11 always fundraises for graduation and there's always somebody looking to do something like that," said Holinaty.