Municipal councils remember on Remembrance Day
Posted on November 10, 2015 by Sunny South News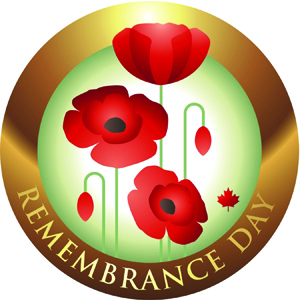 By Stan Ashbee
Sunny South News
Sunny South News asked local municipal councils two questions. Why do you think it is important to remember on Nov. 11? And — Do you have anyone close to you that has served in Canada's military in the past or presently?
Town of Picture Butte Mayor Wendy Jones said her father enlisted in the army in 1942 and was discharged in 1946. Jones said her nephew was an active member of the armed forces for 35 years but is now retired and works as a civilian for the department of national defence.
"We must remember — the sacrifice of all Canadians who lost their lives in the fight for freedom," she said. Or it would be meaningless, she added.
Jones remembers "In Flanders Fields," which she believes says it all. "We had to memorize this heart-felt poem when I was in Grade 5. I've never forgotten it," she noted.
Deputy Mayor Cathy Moore of the Town of Picture Butte said we, as Canadians, must remember.
"If we don't, the sacrifice of all the men and women's lives who have served will be meaningless. We need to recognize the tradition of freedom they fought to preserve," Moore said.
Coaldale Coun. Roger Hohm noted whether you're in favour of Canada going to war or not the impact on the nation will be felt forever.
"Over the years, my thoughts about Remembrance Day have changed. When I was much younger Nov. 11 was the day I was supposed to be 'remembering those who gave their lives for my freedom' and at the time it made sense. But, as I get older the meaning of Remembrance Day has changed. It has changed to a day of a celebration of the great country we live and in the pride of a nation," Hohm said.
Remembering the sacrifices of war, Hohm added, is still important but the feeling of being Canadian because of these conflicts has become much more important. "I can listen to the speeches and the poems talking about the things our men and women endured during these conflicts but when we begin to sing our national anthem 'O Canada' the true importance of Nov. 11 comes to light. It is an incredible country we live in and we need to remember those whose acts help mold the Canada we have today," Hohm said.
Hohm explained his father and grandfather both served in the Canadian armed forces and were extremely proud. He said Nov. 11 was almost a sacred day to his family, which brought both joy and sorrow at the same time.
"I never really appreciated how important this day was to my father until a couple years ago. With his health and mind quickly failing he asked I take him to the Nov. 11 service and then to the Royal Canadian Legion. For the service, he had to have his uniform on, medal in order and was proud to sit in his wheelchair at the front with the other veterans," said Hohm.
Hohm continued, while at the Legion there were many service men and women, some young and some quite elderly and fragile, like Hohm's father.
"When the Sergeant at Arms called for attention and for those who had served to report — it was like a light hit my father's face. When it was his turn to report I helped him to his feet and in a voice I had not heard for months he stated his rank and number and saluted the commanding officer. A memory I will never forget," Hohm said.
Town of Coaldale Coun. Bill Chapman said this date was chosen, particularly because the end of World War I was agreed upon on Nov. 11 at 11:00 a.m.
The Armistice Agreement, Chapman added, was signed on the eleventh month, of the eleventh day and at the eleventh hour and proclaimed this was to end the "War of all Wars."
For the past almost 96 years, Chapman said, Canada has celebrated the country's men and women in uniform and more recently have included those in service such as police and emergency services personnel.
"It is important to remember all those who sacrificed their lives in the line of duty. We also celebrate those in uniform who are there defending our freedom, and as well, our safety," said Chapman.
According to Chapman, Remembrance Day is more significant to him than Christmas.
"Christmas has lost much of its meaning through commercialism. In fact, it has flooded out much of the message in Remembrance Day, and it saddens me," Chapman added.
Chapman said he also has a number of family members who have served in the military over the years including:
* Frank Chapman, an uncle — (army) served in medical service in England during the beginnings of WWI.
* Jack Kennedy, an uncle — (RCAF) was a gunner during WWII serving Canada in a couple of missions overseas.
* Ludwig Schwab, Chapman's father-in-law — (army) served in England during WWII. After the war.
* Major Mel Schwab, Chapman's brother-in-law (RCAF – retired) officer and engineer stationed in Canada and Germany.
* Lt. Colonel Richard Schwab, Chapman's brother-in-law — (RCAF – retired) (Retired) officer, engineer, and commanding officer at Moose Jaw and Winnipeg.
* Derek Schwab, Chapman's nephew) — (RCAF) Corporal and I.T. Currently serving at Cold Lake and Greenwood, Nova Scotia.
Chapman said his only concern and fear is the event of Remembrance Day is being overshadowed by other events including Christmas. "Only in recent years with those men and women serving Canada in Afghanistan and Iraq, has the significance of this day become more real," said Chapman.
As a result of the marketing of Christmas in particular, Chapman added, many Canadians have become lackadaisical when it comes to remembering the country's men and women in uniform.
"It has become another holiday where people can sleep in, go shopping, and generally use the day as a 'day off.'"
Former "Dragon's Den" celebrity and philanthropist Brett Wilson, Chapman explained, has taken up the message commerce and retail can wait a day to begin the next event and marketing and sales leading up to Christmas.
"I echo Mr. Wilson's position and with that, I encourage all stores and businesses to stop and remember our men and women in uniform," said Chapman.
"Each and every year, my wife Deb and I gather with many others in Coaldale at the Cenotaph. It is a very moving and touching experience to collect our thoughts and celebrate all our troops and those in uniform at all levels," Chapman added.