Partnerships — huh, yeah, what are they good for? Town council discusses the term with local business
Posted on July 12, 2016 by Sunny South News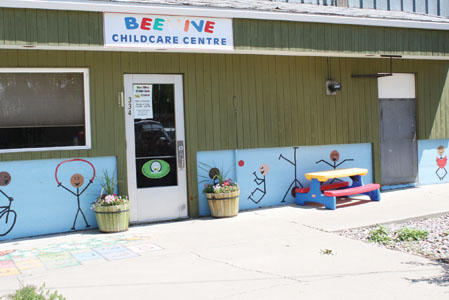 By Stan Ashbee
Sunny South News
Manna Middleton from the Bee Hive Child Care Centre in Picture Butte visited town council last month in hopes the town would help out with putting in gates on fenced in areas of green space the child care centre's kids utilize. She previously asked council to access green space with a hill and trees in town, which is a better fit for the children rather than the ball diamonds, which were previously used.
"The only hiccup I have is through my licensing one of the things I absolutely need to have is an enclosed area, although I don't have to use it all the time, I need to have access to an enclosed area. Because the building I run my daycare in doesn't have an outdoor space for the children, I've used the ball diamonds and now that's not accessible. That other green space between the two ball diamonds, it is all nicely fenced in, it just doesn't have two gates," said Middleton, during her presentation to council.
"What I'm asking is if the town would consider putting the two gates on in the north and south to make it a more enclosed area for our daycare children," she said, adding there are other fenced in areas without gates but she hopes to block off an area for the kids, so only two gates would most likely suffice.
Mayor Wendy Jones asked Middleton if she is willing to pay for the gates, as the daycare is a business.
"If that's what is necessary. I'm hoping to come up with some negotiations with you in terms of offering volunteer time," Middleton said, or perhaps looking at other options.
Are you a business or are you free? — Jones asked Middleton.
"In my opinion, and I'm not here to argue with you, if we take taxpayers' money and buy something that only needs to be utilized by one person, that's not fair to the other people," Jones said.
Middleton asked council to look at the data presented but also stop looking at the daycare centre as a business and instead as a public investment.
"I need the town's support to be successful. I can't run this Early Learning Program in this town, I'm telling you straight up," she said, adding without the town's support. Middleton said she was told to show council the daycare's tax forms to show council the business is not profitable.
"I don't know what I can do to convince you this daycare has only run because of the success of the partnerships I've had with the town. That's what makes us special. I'm just asking to please look at the daycare as a public investment to our families and the young children of Picture Butte," said Middleton.
Middleton added she is willing to contribute and maybe negotiations could take place in regards to the request.
"You used the word partnership. Has there been any kind of a former partnership formed with you and the town and various facilities. You just use that term, eh?," asked Coun. Joe Watson.
Middleton responded by noting she is trying to form a partnership with the town but not in the literal dictionary meaning of the word.
"I'm asking in a loose sense. I'm looking towards having a partnership with my council and our town's staff in terms of I'm going to provide the service in this town and I hope you can see value in that. I would hope you would see the benefit of supporting an Early Learning Program in Picture Butte — it draws families in. That grows our population. Quality education and early learning sets the children up for success," she said, adding that foundation provides individuals with a chance to grow up and finish high school, it creates jobs and those adults pay taxes later in life.
Middleton noted she doesn't believe everyone is on the same page in regards to what a partnership is and/or how a daycare centre located in a community can benefit a town.
"Partnership to me means you give me this, I give you this," said Watson, adding as a fairly new councillor he was wondering if previous councils or someone from the town had officially become partners with the daycare centre.
Middleton said there's no contracts written out.
"It's a common courtesy and it's a partnership in the sense of I want to provide the town a service outside of my own best interests to this community and I hope the town will support me in opening up to facilities we have already and just allow me to access," Middleton explained.
Jones asked Middleton how many of the children registered in the daycare are from Lethbridge County.
"I don't keep track," Middleton said.
Jones added if Middleton wants to form a partnership with the Town of Picture Butte perhaps reaching out to the county to form a partnership and request for funds for the gates would be a good idea too.
"Would they put a gate on the fences? I'm not sure," said Middleton. "I don't want to pass the buck. I think the gates on the fences, that's on town property. I don't know if we would go into the county. I don't know if I would pick that battle with county families because I see value in them accessing our businesses. They are drawn into our town, they come here because there's service. We need that partnership," Middleton said.
The challenge with that, noted town Chief Administrative Officer (CAO) Larry Davidson, is the county doesn't contribute any money to the town.
"If the majority or even 50 per cent of your users are from the county — why should our ratepayers be expected to pick up 100 per cent of that cost?" the CAO asked Middleton.
Middleton said she doesn't disagree with council the county should be chipping into the funding of town facilities because county residents are a huge contributor to a majority of the town's businesses and facilities.
"Without the county accessing town businesses and schools or coming into the town I don't think we could have what we have here without that," she said.
But, she added, that's a separate conversation.