CDME communities thank province for support
Posted on August 29, 2017 by Sunny South News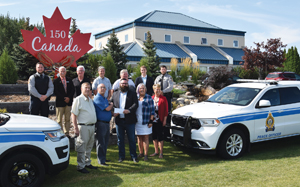 By Nikki Jamieson
Sunny South News
Although not even a year old, a regional peace officer initiative has been paying off for several local communities.
The Coaldale and District Municipal Enforcement unit, along with mayors, councilors and town staff from Barons, Coaldale and Picture Butte, had the opportunity with Municipal Affairs Minister Shaye Anderson to officially thank the provincial government for their support in the program last Friday, when they took part in an photo op with the symbolic presentation of the cheque.
"A lot of times in these granting programs, communities get the money and they don't have a meaningful way to thank the province for their support, and it means so much to have that support, and you want to make sure you celebrate the fact that they're recognizing a good program and rewarding it by granting approval of the grant dollars," said Kim Craig, Coaldale mayor.
The idea of a regionalized peace officer program came around about two years ago. The goal of the program was to provide better and more professional services to the participating communities.
"Working collaboratively with each other, I think that's the way of the new future," said Ed Weistra, mayor of Barons. "Trying to do things individually is not cost effective at all."
It was announced in April 2016 that the Town Coaldale has been approved for a $226,900 grant under the Intermunicipal Collaboration component of the Alberta Community Partnership program, in support of the Peace Officer Regionalization project.
The handing of the cheque was purely ceremonial, as the money had already been received.
"When communities work together on things like this, policing and with peace officers, it benefits everybody," said Anderson. "One of the things with these community partnership grants is its about getting together and working together on these things, so for me, seeing a project like this, were it starts in Coaldale and it fans out into the small communities, its important. It's important for the communities to feel safe and for these officers to connect with the people out there. And I think it's a really good thing so far, and I only see positive going forward."
Although Anderson wasn't entirely sure what costs the grant had covered, he did allude to the possibility of further help if needed.
"If they need something going forward, I'm sure they'll get ahold of me, and that's one of those things with those grants that are meant for that, communities working together, along those lines. It's really important for me to come out here and see this amount with my two eyes. These are the positive things that we can talk about and you can actually see the difference it's making on the ground."
The money had allowed for the purchase of equipment and vehicles for the peace officers. It also covered start up costs and training.
"It covered a lot of the start up costs and it gives us a little bit of operating, to make sure we can transition over the first three years of the program," said Craig. "A long time ago, the province recognized that individual communities would be better served by coming together and working cooperatively in programs — rather then everybody trying to have a (service) and offering certain things — come together and make program like this better by amalgamating your resources."
The CDME program has Barons, Coaldale, Coalhurst and Picture Butte  joining together to run a peace officer program throughout their communities. The peace officers work seven days a week, and take care of bylaw and Traffic Safety Act infractions. Education has also been a big component of the program, with the peace officers spreading the word on bylaws and TSA enforcement. The program consists of five peace officers — three level one and two level two peace officers. Although there is no regular schedule, the peace officers travel around to the different communities in shift work. Although events may bring them up to an area, there is also a focus on proactive patrolling.
"We're really proud of the program and we've come a long way," said Mark Murphy, director of emergency services for Coaldale. "Our goal is — for bylaw enforcement especially — most people don't know what our bylaws are. So our guys, when they're out and about, they're educating people as well. A citizen who's not following a bylaw may not be aware of a bylaw, so we're talking to the guys, the CPOs will talk to the citizens and say, 'Hey you know what, you need to do something with your lawn, the grass is too long', or whatever the case may be… You have to educate people before we do the enforcement part."
Coaldale had already had a peace officer program in place before the CDME program launched, which Craig had described as "robust". Picture Butte, on the other hand, did not, and mayor Wendy Jones says there has been a huge difference, particularly in traffic speeds.
"A lot of our bylaws are being adhered now, and it make (people) aware of our bylaws," said Jones. "You would also notice traffic in Picture Butte especially, the traffic has also slowed down. School zones, play ground zones and what have you, you will notice it is making people aware of safety."
Picture Butte did have a bylaw officer position. However, they could not do traffic control. According to the Public Security Peace Officer Program 's policy manual, a level one community police officer "enforces moving violations under the Traffic Safety Act and/or elements of the Gaming and Liquor Act".  The ability to have level one peace officers to enforce TSA provisions has improved traffic within the town.
Although there is an RCMP detachment in Picture Butte, Jones believes that their time is better spent on crime  — as they have to cover everywhere from Barons to Diamond City to Turin — and not writing tickets.
"They (the RCMP) look after such a big area; they don't have time to do traffic in our small municipalities. This is very good because more we have traffic control."
Barons Mayor Ed Weistra holds a similar view on the RCMP. Like Picture Butte, Barons also had a bylaw program, with a bylaw officer they shared with Coalhurst. However, that was "a bit much of one person". That bylaw officer also could not deal with TSA infractions.
"Because the RCMP are so busy doing criminal investigations, the small stuff like running stop signs, seat belt offenses, those type of things run rampart because there's nobody checking it. They can't be there all the time," said Weistra. "With this peace officer (program), there's somebody there checking, I feel it's a way better deal, it helps free up the RCMP for doing criminal stuff, and our guys can take care of the bylaw enforcement and the small traffic control stuff."
Noting that the program was still in it's early stages and has a few kinks to work out, Weistra is looking forward to seeing the program get rolling.
"It's a good opportunity for all of the communities to join together," said David Sawatzky, community peace officer with the CDME. "You're going to get more officers on the street, better shifts — because before, from what I understand, it was kind of a Monday to Friday for the communities, as far as their bylaw enforcement and things like that went. So this way now, we're doing full seven-day-a-week coverage, we have the manpower to do that. And we work a little later as well, so you're just getting more coverage, more time with officers out on the streets doing the job."
"It's great to have the visual image out there and let people know that we're out there and we're trying to help out," said Dustin Burns, community peace officer with the CDME. "We're not trying to be the enemy, but just trying to help.
"We're just out there for safety, right. And at the end of the day, everyone goes home safe, then it's a successful day."
To report a bylaw infraction, traffic concern or to get in contact with a peace officer, call 1-844-645-2635.