Elks lodge gets fresh exterior
Posted on August 29, 2017 by Sunny South News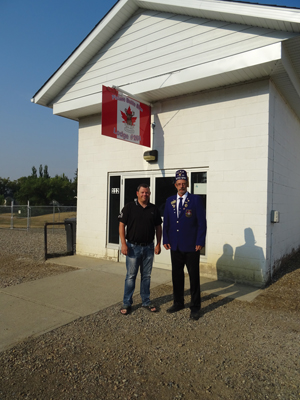 By Nikki Jamieson
Sunny South News
The Picture Butte Elks Lodge just got a new roof over their heads – literally.
For the first time in 50 years, the Elks' headquarters on 4th Street South has gotten a new roof, and with it came a bit of a makeover on the outside with a new sign as well.
"This is the first time a new roof has ever been put on. Ever since the building was built, we've never put a new roof on the building," said Ralph Oldenburger, president, district deputy and executive trustee of the Picture Butte Elks Lodge.
The new roof is an asphalt shingle roof, and replaces a cedar shakes roof.
Although the new roof does look pretty spiffy, it came about as more of a need rather then as a wish-list item. Back in May, the Elks had been surprised to discover that the roof was leaking and decided that they better replace it sooner rather then later.
Unfortunately, it wasn't covered under their insurance, so they had to pay for the roof themselves.
"Before the damage got too big, we had to do something. It was put a new roof on or wind up with lots of damage inside the building. We had to do the maintenance; we had no choice there, we had to do it."
While they were securing the $25,000 needed for the roof, the Elks began investigating getting a new sign for the building as well. The old sign had been getting rather weather-beaten, and they thought they should replace it as well.
Although they were originally planning on building one themselves, help came in the form of Jamie Brehaut, a financial advisor and manager at the Co-operators in Picture Butte, who told Oldenburger that he designed a sign, he would go and have one made for the Elks on behalf of the Picture Butte Co-operators.
The sign, from a distance, looks a bit like the Canadian Flag. But up close, the sign is emblazoned with the Elks' logo.
With the exterior updated, the Elks are now eyeing doing a bit of work on the inside of the lodge as well. They would like to do some painting and put in new lighting, but as the roof was very big expense, they need to wait and secure the needed funds first.
"We're waiting to see if we can get a grant from the government," said Oldenburger. "Then we'll do some more work on the interior."
The Picture Butte Elks Lodge is a chapter of a national charitable organization that has been serving Picture Butte for the past 80 years.