Year of celebration and new awards for Lethbridge MP
Posted on January 2, 2018 by Sunny South News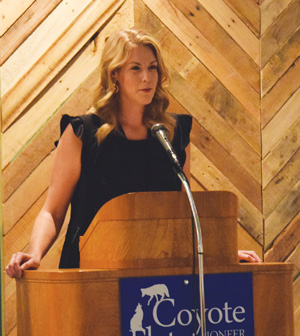 SSN FILE PHOTO
By J.W. Schnarr
Southern Alberta Newspapers
While a seemingly endless stream of news from Ottawa kept Lethbridge MP Rachael Harder busy this year, she still made time to celebrate a Canadian milestone and the volunteer efforts of local residents.
"This was a big year in celebrating Canada 150," Harder said, noting how much she enjoyed being part of Canada Day festivities at Henderson Lake Park, and the importance of recognizing both how far the country has come and where it is going in the future.
As part of the celebrations this year, Harder started a new awards program to celebrate community-minded Lethbridge residents. The first Community Builder Awards were handed out in October during a ceremony.
"Essentially, I asked for nominations from across the riding of individuals, businesses, or not-for-profits who positively impact our community through volunteerism and giving back," she said.
Harder received several hundred nominations and, with the help of a committee, selected a number of winners.
"It was a huge honour and privilege to be able to gather the 18 individuals in total who received an award," she said.
"It's so wonderful to be able to take the time to celebrate those accomplishments, and to draw some attention to these individuals who like to stay away from the limelight and just give out of a willing heart."
Following the success of the awards this year, Harder confirmed they will be an annual event.
"I'll be calling for nominations again starting in February " she said.
Another bright spot this year for Harder came in the form of a youth advisory board which she started this year.
She regularly meets with eight committed youth between the ages of 16 and 24 and has discussions on pressing issues and policy matters.
"These are things that matter to them," Harder said. "They give their opinions, and they ask their questions. They engage in really great dialogue.
"And out of that, they are helping me as their Member of Parliament, to take a stand for them in Ottawa, and to be an advocate for them."
Harder said it is important to hear from young people and listen to what they have to say.
On The Hill, Harder said she is proud of the work done by former interim Conservative Party of Canada leader and Leader of the Opposition Rona Ambrose in regards to her work on the JUST Act, known formally as the Judicial Accountability through Sexual Assault Law Training Act.
"I was fortunate to have been able to come onside with (Ambrose) and help champion the JUST Act," said Harder.
The Act restricts eligibility for judicial appointment to those who have completed comprehensive sexual assault education. It also requires the Canadian Judicial Council to report on continuing education seminars in matters related to sexual assault law, and requires sexual assault court decisions to be explained in writing.
She said there have been many cases where women and girls who come forward with sensitive assault stories are fearful and anxious about the judicial process — who are then further traumatized by hurtful comments made in the courtroom. In particular, she cited the 2014 actions of former judge Robin Camp, who asked a complainant in a sexual assault trial why she was unable to "keep her legs together."
"It's just really inappropriate," Harder said. "And if we want the justice system to thrive, we can't treat our victims that way.
"We have to find ourselves on the side of justice, and on the side of advocating for the victim."
One of the big subjects of debate over the past year has been marijuana legalization and how it is going to affect the lives of Canadians in the next year.
"I've heard quite a few concerns from those in the constituency of Lethbridge," Harder said.
She has heard from local residents with concerns over how children may be affected by these new laws, in part due to marijuana plants grown at home being accessible.
"The fact someone between the ages of 11 and 17 can have up to five grams of marijuana in their possession and there's no legal repercussions for that," she said.
"They're not prosecuted."
She also said there are concerns about impaired driving and marijuana use.
"We don't actually have the technology in place in order to properly or adequately test for drug impairment," Harder said.
"Of course, people are concerned. They are going to be on the road, and there will be individuals using marijuana on the road.
"They may think they are fine when they leave the house, but we know, physically, the use of drugs impairs a person's judgment and their ability on the road."
She also cited efforts by law enforcement agencies to push back the timeline for legalization.
"(Police) have said the timeline is too short," she said. "To legalize marijuana by July 1, 2018, means they are not going to have enough time to train their police officers."
Harder said this gap between training and enforcement could create an environment for crime to thrive.
"It's going to create a window of time during which criminals and organized are able to flourish," she said. "The police just won't have the proper tools or training to respond."
Finally, she said some municipalities and businesses have voiced concerns.
"I'm hearing from construction companies in Lethbridge," she said.
"They are really concerned in regards to the well-being of their employees and the policies they are going to have to put in place around this."