Staff sgt. Henry gives report to Coaldale town council
Posted on May 29, 2018 by Sunny South News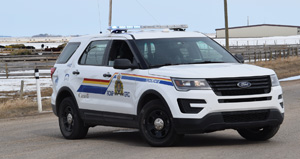 Sunny South News file photo.
By Nikki Jamieson
Sunny South News
The G7 conference, police visibility and the new RCMP building were topics of interest in a Coaldale RCMP report to council.
During Coaldale town council's regular May 14 meeting, staff sgt. Glenn Henry of the Coaldale RCMP presented his quarterly report.
Henry touched on three priorities in his report. The first was positive police/community relations through community involvement, and the past year saw Coaldale RCMP officers take part in a rural crime round table with Lethbridge MP Rachel Harder, attend career day at the Calvin Christian School, attending the local Victim Services Annual General Meeting, attend a Shed Light film screening, compete in a one-hour floor hockey game against John Davidson School students and present, on behalf of the School of Hope group, to home schooled students.
The second was decreasing property crimes through increased police presence in communities, through measures such as traffic stops and street checks. Henry's report also contained 173 traffic violation tickets issued in the past quarter.
The third priority was the Habitual Offender Management – Crime Reduction Strategy. The detachment had identified two people in the past year who met the criteria of the program, and both have since relocated out of the Coaldale area.
"We're going to maintain the reduce property crimes through police visibility, because I think that's, although it's hard to measure, I think the visibility of us in the community is a good thing," said Henry. "We're also mandated to continue with the Habitual Offender Management Crime Reduction program, which is one of the things that our community, all our departments are into doing intelligence-wise policing strategy."
Henry also told council that in the past three months, they've investigated three drug overdoses at the Lethbridge Correctional Centre.
They have also been investigating "a number of" sexual assault cases in district.
Henry also talked about an initiative the RCMP's K division is piloting in the city of St. Albert, where they are looking at adding real-time updates of where crime occur in communities.
The RCMP would partner with communities with websites, and update on the website where crimes occur. Should council desire; he could send them more information on it.
"Statistics are kind of a double edged sword. You put them out to people and people get upset about it, people get surprised and shocked by it," said Henry.
"But in the next breath, I think we need to have a bit of a reality dose for our communities, to make sure that our citizens really, make sure they know that our communities are not safe from crime. Again, within ten minutes, 15 minutes from a population source of 100,000 people, so their crime is our crime, they're not that far away."
Henry was advised that morning by the RCMP's Asset Management Department in Edmonton that construction documents were 50 percent complete, and would be 100 per cent complete by autumn 2018.
After a full public tender — which would take "40 days, 40 nights", due to the value of the contract and security clearances which would need to be in place — groundbreaking is expected to take place in spring 2019.
Noting that he understood their frustration with the slow process, he joked that the town would be "cutting grass there this summer".
Coun. Doreen Lloyd asked how the G7 conference this summer in Charlevoix, Quebec, would effect policing in the area.
The G7 conference is a meeting of the seven largest economic powers, and consists of Canada, France, Germany, Italy, Japan, the United Kingdom, and the U.S.
The G7 will go June 8-9, and themes include investing in growth that works for everyone, jobs of the future, climate change, advancing gender equality and women empowerment and building a more peaceful world.
The G7 conference was previously known as G8, when it included Russia among it's members until it was expelled in 2014. Canada had previously hosted a G8 conference along with a G20 conference in 2010.
The G20 conference was criticized for the response to protests, which turned violent, and the violation of civilian rights by police, while the G8 was criticized for government's mismanagement of funds and lack of transparency.
Henry said that the RCMP in Alberta are deploying over 430 regular, civilian and public members to support G7 policing efforts.
He said for the Coaldale detachment was sending one member from the rural division of the detachment, so from a financial prospective, there will be no impact on the town.
"What will happen is we are running a vacancy on the rural side, and to help with this vacancy, there has been a RCMP-wide leave restriction, from May 23 to June 12," said Henry, adding with the exception of a few courses, training is also stopping during that time. "What we're hoping for is no impact on daily policing."