New exhibit helps visualize D-Day at Lethbridge Military Museum
Posted on September 10, 2019 by Sunny South News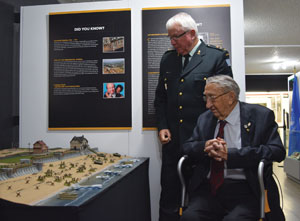 Sunny South Photo by Nikki Jamieson
By Nikki Jamieson
Sunny South News
A temporary exhibit at the Lethbridge Military Museum uses virtual reality to help people experience what it was like on D-Day during WWII.
The display, which is the first temporary display at the museum, features a 3D printed model of the Bernières-sur-Mer battleground at the east end of Juno Beach, codenamed 'Nan White'. The site had featured some of the heaviest fighting Canadian soldiers saw on June 6, 1944.
The exhibit also showcases virtual reality headsets from Valor Canada, who developed the software in the goggles that allow users to experience a virtual tour of Juno Beach.
Honorary Lt. Col. Rick Casson of 20th Independent Field Battery said that we should never forget the contributions and sacrifices made by our soldiers, and encouraged people to come out to the museum to see the exhibit.
"(D-Day) was the beginning of the end of the war. It was a terrible battle, we lost over 500 of our brave soldiers that day, and in the months that followed 5,000 Canadians died," said Honorary Lt. Col. Rick Casson of 20th Independent Field Battery.
"This museum is open for everyone to come and visit, and certainly students and the schools, I know we have an active program to bring them out here just to have a look, just to remember. 75 years is a long time to them, but in the history of the world it's not."
Local WWII veteran Pete Lewko helped unveil the exhibit. He was not in the first wave of soldiers who landed on that beach, but he recalled looking up and seeing the fighting from where he was stationed in England on D-Day, and said "it was just like a bunch of mosquitoes up there".
"This is fabulous, I'm glad to see something like this in Lethbridge, this is the greatest thing I've seen. Beautiful," said Lewko.
"I would advise anybody just to come out and have a look at it. I think it's worthwhile.
Model maker Brent Devos' mother had been part of the Dutch underground in Holland when she was a teenage, and had been liberated by the south Alberta regiment.
Although the model was originally built as a setting to play a game, Devos said as he was researching to build the table, it became more and more apparent that there was "a lot more story to be told here".
"It makes me feel good (to see it displayed here). It makes me feel perhaps the work I put into it — a lot of hours went into it — might help, particularly as it has been said before, the younger generation to kind of visualize, have something concrete to look at, get a sense for the important of the occasion," said Devos. "So many men died, like seven out of 10 of the Queen's Own Rifles died on that first wave. They didn't even make it, many of them, to the beach.
"My board here is quite peaceful, but at the time there would have been constant motor shells landing, machine-gun fire, smoke, screaming; it would have been a horrible place to be."
Valour Canada president Peter Boyle said their goal is to connect youth with their military history and heritage, and virtual reality allows them to engage and emerge youth in the history and stories of veterans.
"This isn't a video game, it's really about connecting the geography with the stories of the veterans to understand your military history," said Boyle.
"In a perfect world, I believe every school kid should go overseas to Vimy, to Juno, and learn about what the Canadians did on the battlefields. That's obviously very difficult and very expensive, so what we try to do is replicate that environment, so when the kids take off the headset, they've learned what it was like, they've learned what the veterans experienced, and they're able to understand, really, what we want them to understand is why we go to war and why we don't go to war, what Canadian values do we stand up for, and I hope in this environment, they learn that in a better way."
The exhibit will be available at the Lethbirdge Military Museum for viewing until December.
The museum is open to the public on Wednesdays between noon and 4 p.m. Those looking to book a tour of the museum on a different day can visit to the museum's website at http://www.lethbridgemilitarymuseum.org.