Coaldale group continues to raise concerns with councillor's involvement with Civic Square
Posted on September 22, 2020 by Sunny South News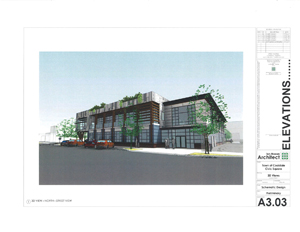 Sunny South Photo submitted
By Nikki Jamieson
Sunny South News
A concerned citizen group continues to raise questions about a Coaldale town councillor's involvement with the Civic Square project.
In a letter addressed to Coaldale Mayor Kim Craig and council, signed by member Jason Beekman, the group Citizens for a Better Coaldale request that council respond to questions on coun. Briane Simpson's involvement in the controversial Civic Square project, which would see a new town office and business space in a two-story office building on 20th Avenue next to the Coaldale Public Library. The project would cost $8.6 million, with the town paying $3.5 million for their space.
"There's been not a lot of transparency surrounding it, and now that there's dots being connected to a conflict of interest, it makes us ask a few more questions," said Beekman.
Beekman noted that while Simpson had excused herself from closed meeting discussions regarding Civic Square, she had not excused herself from an open meeting discussion during council's regular July 13, when council discussed a letter from Beekman, on behalf of CfaBC, to council. The letter had outlined concerns over the Civic Square project and requested that the town hold a plebiscite on the project and put capital projects on hold until there is full disclosure and approval from the town's taxpayers. Council ultimately unanimously passed motions to receive the report for information and to invite the group for a meeting to talk about the project and the transparency the process had, after the details for the project were finalized, during a September council meeting, and declined the request for a plebiscite and a stoppage to all capital projects. Simpson had participated in the discussion arising from the letter and voted in favour of both motions.
"The fact that she's recusing herself from discussions around civic square, that should also mean she is not allowed to vote on a plebiscite request for Civic Square, because again, she has a connection," said Beekman.
"We're asking council to please explain to us how it's not a conflict of interest that we've got a council member who is leaving council in closed meetings, which we suspect are regarding Civic Square, but it's okay for her to vote on a plebiscite that we have asked council to do on Civic Square," said Adam Parker, member of CfaBC. "Now she voted against the plebiscite, is that not a conflict of interest?" Parker pointed to a recent online survey that CfaBC had done, that had 736 respondents, in which seven per cent of respondents considered Civic Square there first choice in capital projects for the town. He questioned whether the expense of a new town office was good for the town, and repeated calls for a plebiscite on the matter.
"All council has to do is put a plebiscite out, and ask the community if they want a new town office. How hard is that?" In a statement, Simpson said upon becoming aware that her husband's employer, the Epiphany Group, intended to submit an expression of interest for the Civic Square project, she recused herself from all Council discussions and votes relating to the scope or contracting of the project. Simpson says her husband, Roger Simpson, is a project manager with EG, and she says they "have ownership of less than five per cent of EG", and she had not participated in any discussions or votes pertaining to Civic Square since the town's capital budget was approved at the Jan. 27, 2020 council meeting. EG had submitted an EOI to Avail LLP in response to the town's RFEI for the Civic Square project on Feb. 6, 2020.
Simpson said she did not recused herself from the discussions pertaining to the July letter and plebiscite request as "EG's EOI was clearly too remote to reasonably be regarded as likely to influence my vote on plebiscites and capital", and the topic involved whether council would determine whether capital projects were in Coaldale's best longterm interests or is these decisions would go to a community vote.
"I believe that I was obligated to participate in the motion," said Simpson. "I chose to decline the request for a plebiscite because if approved, Council would be effectively delegating capital project approval generally, and specifically to those who are able to show up for the plebiscite vote. Council has a duty, and was elected, to represent the residents of Coaldale and make reasoned decisions in their best interest, not to delegate the decision-making to a partial group of the public."
Coaldale Mayor Kim Craig, in a statement he read during council's Sept. 14 meeting and sent to the Sunny South News, said Simpson's actions "have been entirely in line" with the Municipal Government Act.
"Council has not entered into a contract with any of the proponents who submitted a proposal to undertake the town's Civic Square project," said Craig in the statement. "When the decision to finalize an agreement with a developer comes before council, residents can be confident that council's decision will be fair and objective and, as always, in the best interests of the town. For these same reasons, coun. Simpson will not participate in future discussions about Civic Square and I am confident she will follow the same due diligence measures that she has followed to date."