Birds of Prey Centre pleased with support
Posted on September 29, 2020 by Sunny South News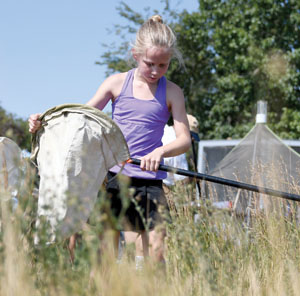 Eight-year-old Aliyah May walks the field looking for bugs at the Alberta Birds of Prey Centre in 2019 during Insect Discovery Day. SSN FILE PHOTO
By Dale Woodard
Alberta Newspaper Group – Lethbridge
Even in a trying summer, the Alberta Birds of Prey Centre has enjoyed ample support.
That has helped the facility in Coaldale maintain flight in a summer decimated by the COVID-19 pandemic.
After opening July 1, the Alberta Birds of Prey Centre has closed its doors for the winter.
"It hasn't been as busy as previous summers, I would say we are about 60 to 75 per cent of what our normal visitation is in July and August," said Alberta Birds of Prey Centre founder Colin Weir. "We credit a lot of that to Tourism Lethbridge and Travel Alberta. They put a big push on staycations and people exploring their own backyard and just that exposure through all the different media advertising they do. We have really noticed people responding to that. Our phone is ringing off the hook for first-time visitors, so that has been good."
That personal contact has been uplifting in an otherwise trying time for the facility.
"You can tell by the tone of their voice what a tremendous sense of relief it is that they can come and visit us," said Weir. "It has really driven home to us what an important family institution we are in southern Alberta. People just want some sort of normalcy in their lives, they want to be able to do things as a family and we have been a real go-to place for a lot of families who want to come and do things."
Still, the pandemic summer hit the Alberta Birds of Prey Centre's bottom line.
Weir said they normally open in mid-May.
"So we lost the first month of the season, just with all of the uncertainty. The biggest impact for us has been the loss of income because we don't get any government subsidies to run this place. So we're reliant on donations and admission fees coming through. Because of the economy, donations have been a little bit weaker. And with the economy and tourism being shut down, we didn't have visitors coming in."
In previous summers the Alberta Birds of Prey Centre would take its birds and do displays at public events around the province, but COVID put a stop to that this summer.
"So those were cancelled indefinitely and into the future," said Weir. "So we are talking maybe $150,000 out of our operating budget and that is about a third of our income. It was kind of challenging."
The Alberta Birds of Prey Centre made the necessary COVID-19 adjustments to ensure staff and customer safety, but playing to their advantage is about 95 per cent of their experience is outdoors.
"So we don't have the same restrictions as small retail operations where you have to line up outside," said Weir. "So we have had one way pathways and in our seating areas where we do the flying demonstrations we've pulled out half the benches so people aren't sitting as close to one another. We have disinfectant and hand sanitizers throughout the site. The only time we've had to ask people to wear masks is when they're getting their photographs taken. So when our staff is putting a bird on their arm that is the only time when our staff is close to a visitor."
"In addition to the precautions we want people to get a feeling of safety as well. It has worked out well for us."
Those protocols aside, the Alberta Birds of Prey Centre experience is about 95 per cent the same, said Weir.
"The only difference this summer is one of the things we do that you can't do at many facilities around the world is we normally invite people to reach out and touch the birds' feathers," he said. "But those feathers would be a common touch point that could spread COVID from one person to another. So, of course, we've had to let people know that we're not doing that this year. That is the only thing that's different from previous years."
Weir said the Alberta Birds of Prey Centre will be open next year by July and August and possibly the usual mid-May date.
"It's changing daily and we have no idea what the future is going to bring, but we are still here every day and answering the phone for calls about injured birds,"he said. "May and June are typically very quiet tourism and travel months for us. But the thing is we usually get a lot of schools and we are not sure if the schools will be even doing field trips and I wouldn't be surprised if they're probably not."
Over the winter months the Alberta Birds of Prey Centre still accepts and appreciates donations.
"We still have to care for and feed the birds right from September through the next April or May or June," said Weir. "Those are our toughest months because we have zero revenue coming in from other sources. If anybody wants to make any charitable donations to any wildlife or conservation groups, if they could just keep us in mind it goes to a good cause."
For more information or to make a donation visit http://www.burrowingowl.com.