County hockey action
Posted on February 10, 2016 by Sunny South News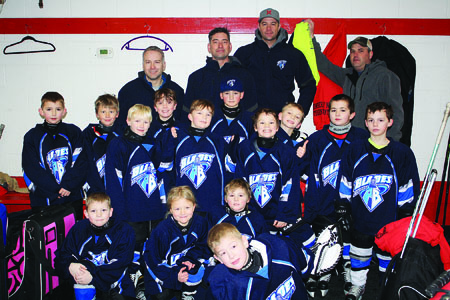 The Picture Butte Novice Blades travelled to Kimberley B.C. over the weekend to play at the Kimberley Dynamiters tournament.
The Blades won their first game of the weekend against Cranbrook Key City 8-7.
Goal scorers were Carson Konynenbelt (3), Braxton Hanna (3) and Riley Van Zeggelaar and Luka Rudelich with one goal each.
The second game was played against the host Dynamiter team. The Blades had a tougher time finding the back of the net and fell 3-12 to Kimberley.
Goals for Picture Butte came from Carson Konynenbelt, Braxton Hanna and Leeland Fraser.
Game three for Picture Butte was early Sunday morning against the Fernie Renegades. The Blades played hard but couldn't clinch the win.
Goals for Picture Butte came from Carson Konynenbelt (2) and Grady McLeod.
The Picture Butte Witdouck Farms Midget Blades hosted Lomond for the first game in the second playoff series this past Thursday and won 5-4.
The best of two games goes Thursday in Lomond.
In league play, the Blades travelled to Warner and took a 3-2 loss.
Landon Veluw earned five points, Jared McCloud had four, Jackson Liska had two and Kyle Davies, Tristan Heins, Zach Liska, Russell Woodward and Jazz Wiebe all added single points.
Reed Graham was in goal for both games.
The Picture Butte Jim Juris Knights of Columbus Initiation 2 team headed to Magrath this past weekend for an early morning game. The kids had a great team win. Jessie Klingenberg, Colton VanRootselaar, Abraham Gomez Ramos and Isaac Medina had a goal a piece. It was two goals for Walker Schooten and Max Okubo and three goals for Gracen Shooten and Liam Slomp.
The Picture Butte Wilbur Ellis Peewee Blades had a few out of town games this past weekend. The net minder, Aiden Peterson, worked hard for both games. The game against the Crowsnest Pass was off to a slow start with Ryan Holm scoring two unassisted goals. The team came out much stronger in the second period. Holm continued his scoring streak adding two more goals. Logan Hillaby also added a pair of goals and Caden Heins contributed one. The third period added a few more goals securing the lead. Heins fed Nickolas Rudelich a great pass and Rudelich scored.
Ethan Slomp let go a hard slap shot for a point. Heins excepted a pass and scored the final goal for a final score of 10-4 for Picture Butte.
The second game of the weekend was in Foremost against Bow Island.
This was a back and forth game with both teams scoring equally.
The game ended in an 8-8 tie.
Points earned: Holm (4), Hillaby (4), Rudelich (3), Heins (2), Rylan Sincennes (1), Giselle Del Valle (1).
Once again, a special thanks to the coaches and parents who spend endless time driving the kids to and from the games.
This weekend brings provincial play down action against Coaldale for the Peewee Blades. Come out Thursday evening to the home rink at 6:50 p.m. for some great hockey action.