Food bank fill at NCS
Posted on May 3, 2016 by Sunny South News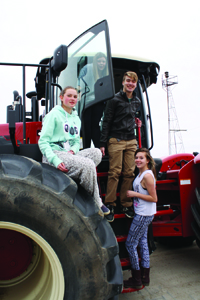 By Stan Ashbee
Sunny South News
It was a food frenzy at Noble Central School in Nobleford last week, as students stuffed two tractors with food headed to the local food bank. The food was donated by the community, as well as the use of the tractors.
Katelyn Erik, a member of the school's student council said, the event marks the second year the school has filled tractors with food for the food bank. "We just do it to help bring food to the community. It brings the community together. We go door to door and we pick up food donations," she said.
Erik noted it was great to see the community come together. "There's a lot of people that go without food, as I'm not one of those, I know it would probably be hard to go without breakfast, lunch and dinner. Just to provide people with that, is amazing," said Erik.
Allison Feenstra, another student involved with organizing the event said, it meant a lot to her to have a part in the prep work and stuffing the tractors with food donations. "I know some people struggle. I just like to help other people and have them get support from other people in their community," said Feenstra.
Feenstra said she is happy the school could fill both tractors with food.
"We had a little bit of complications and we didn't think we would fill both and then it turned out we could and we pulled through. I'm so happy everybody participated," she added.