Local powerlifter hoists new hardware after competition
Posted on December 15, 2022 by Sunny South News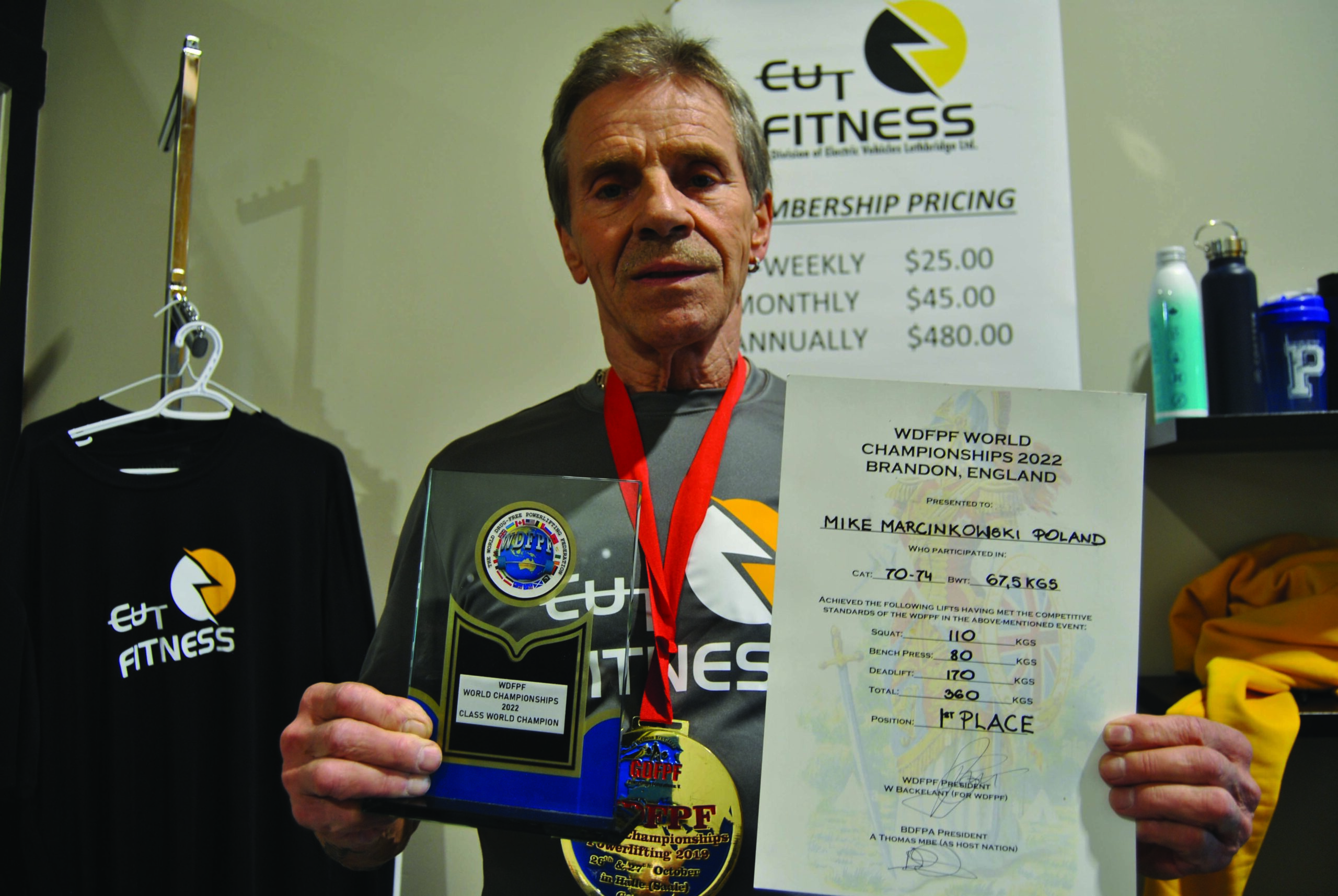 Photo of Mike Marcinkowski by Cal Braid.
By Cal Braid
Sunny South News
When you think of a powerlifter, your mind automatically defaults to an image of a big, burly dude in his 20s or 30s, with ample body fat layered over bulky muscle. Coaldale's Mike Marcinkowski is indeed a powerlifter, but he doesn't fit that profile. He looks almost like a cyclist; lean and ripped. And, get this, he's 72. He moved to Canada from Poland 40 years ago and looks like he hasn't stopped moving since. Canada has been home for a long time but he said, "All my heart is in Poland."
"I've been competing since 1998," he said. He's won a number of medals and titles over the years and still holds records for his age and weight category in the deadlift. He worked hard after a back injury to get himself into shape for the most recent World Drug-Free Powerlifting Federation's (WDFPF) competition. He flew to the U.K. and said he was "in really good shape" going into the Nov. 12 competition in Brandon, England. On his certificate, his lifts scored: squat-242.5 lbs; bench press-176 lbs; and deadlift-375 lbs. He earned first place for his age and body weight.
At Cut Fitness, his home gym in Lethbridge, he showed off some of his latest hardware, including a 2022 WDFPF trophy and a gold medal from the 2019 WDFPF championships in Halle, Germany. He said he's always been involved in sport and athletics — from gymnastics to powerlifting — and usually goes to compete every year wherever the championships are held.
He talked about cycling, running the stairs in Indian Battle Park, and bone chips in his right arm that won't allow him to extend and lock it out when doing pressing movements. Still, he lifts and moves well not just for his age, but for any age. He not only defies the stereotypical image of a powerlifter, but he also defies anyone's stereotypical image of a senior. Next up is a June 2023 event in Sardinia, Italy. He expects to be there.