Nobleford looks back on 2022 in first of its kind document
Posted on January 26, 2023 by Sunny South News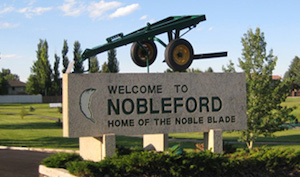 By Nikki Jamieson
For Sunny South News
The Town of Nobleford has released its Report to Community (RTC) for 2022.
The document is the first RTC to be put out by the Town and provides an overview of what was accomplished in 2022 in Nobleford.
Nobleford town council had approved a new Strategic Plan which came into effect in early 2022. Among the plan's objectives was a commitment to improving communication with residents by communicating clearly, positively, and consistently.
"After researching various RTCs and Annual Reports from municipalities across Alberta, we began working on the RTC last fall, and were very excited to release the document to the public in the beginning of this year," said Chief Administrative Officer (CAO) Joseph Hutter. "From council and administration's perspective, an RTC provides an opportunity to be accountable and transparent by reflecting on the year and determining what initiatives were successful, which ones were not, and how we can improve in the future."
The report covers the scope of council and town administration's roles, along with progress on the town's Strategic Plan's priorities which relate to critical infrastructure, affordability, communication, public participation, enhancing and beautifying the town, and attracting investment.
Hutter says he is particularly proud of the amount of grant funding the Town applied for and received from the Province last year.
"Grant funding opportunities have diminished in the past several years, and Nobleford receiving approximately $2.6 million in grant funding is a tremendous accomplishment for a municipality of its size."
One major project the town underwent in 2022 was the new Sports Park. As the existing skate park needed refurbishment, the Skatepark Rehabilitation Project became a capital project for 2022. In addition, moving to a more open area, installing lighting, and receiving a new surface, council had an area designed that could be flooded, allowing for the creation of an outdoor ice rink. A new Pickle-ball Court was added next to the skate park, which will receive surface treatment and net/windscreens in the spring.
"We were very pleased to provide more recreational opportunities to the residents of Nobleford," added Hutter.
Information detailing the grand opening and demonstration for the Sports Park will be posted to Nobleford.ca closer to the grand opening.
Another notable change in 2022 was the town's mill rates. With the investment and maintenance of critical infrastructure being a top priority in the 2022 strategic plan, council made the decision to invest in sustainability. This was reflected in increased maintenance budgets, particularly in maintenance related to water treatment. Additionally, significant investments were made through an increased park maintenance budget to beautify the town, including a flower bed pilot project, with planters made from 100 per cent recycled materials. As well, much-needed repairs were made to the spray park. Nobleford also joined the Chinook Arch Regional Library System – currently boasting 135 active library users, with over 7,000 items borrowed by users in 2022.
"It is important to note that there were a number of factors outside of Council's control that contributed to the necessity for an increase to the mill rate. Fuel, electricity, natural gas, insurance, and policing costs all experienced notable increases," said Hutter. "Reflecting on 2022, I am confident that we struck a strong balance between operating in a practical and sustainable way while remaining highly competitive in terms of property tax rates."
According to the report, Nobleford's residential and non-residential mill rates still remain lower than adjacent municipalities, and council is hard at work to ensure that mill rates remain low and Nobleford stays one of the most competitive municipalities in Alberta in terms of municipal property tax rates
Other projects that took place in 2022 included a town website revamp, the return of Heritage Days after a two-year hiatus and rezoning a new subdivision. Some projects that had started last year and will continue throughout 2023 include repairs to the town's raw water reservoirs. Public Works staff identified potential leaks in 2021, and the Town submitted an application to the Alberta Municipal Water Wastewater Partnership (AMWWP). Last summer, the Province announced Nobleford would receive $2.4 million towards reservoir repairs. Preliminary engineering for the project began in the fall of 2022, with construction expected to start in the spring of 2023.
The RTC is available for viewing on the town's website.