Picture Butte town council chooses ambitious pool design following community feedback
Posted on July 10, 2018 by Sunny South News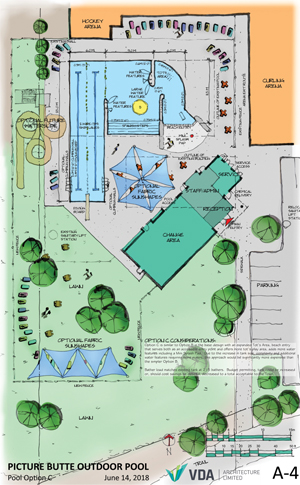 Sunny South Graphic Submitted
By Nikki Jamieson
Sunny South News
Following feedback from the open house last month, Picture Butte town council has chosen option 'C' for the new pool.
A community open house for three potential pool designs was held on June 26, and the town received 63 feedback forms from attendees — 50 responses were from residents of Picture Butte, and 13 were from Lethbridge County residents.
Of those responses, 46 indicated a preference for option C, six for option B, eight for option A and three indicated no preference.
Option A, the most cost efficient option presented, would see the pool remain at the same dimensions it is currently, while constructing a new changing room facility and a new fence line. Option B, another cost efficient option, would have an entirely new pool constructed with swim lanes, a shallow end with water feature and a tots area, although the bather load would be reduced from 215 to 190, due to a decrease in the pool tank size.
Option C is similar to Option B, but has an expanded tots area, more water features, beach entry and a mini splash-pad, with a bather load of 215. New changing room facilities and a new fence line were also included in option C and B designs.
According to comments made on feedback forms in favour of option C, respondents believed it would serve a greater age range, it had more to offer then the other options, that if the town was spending the money for a new pool they should get it right and go big, especially if it won't be replaced for an expected 40-50 years after its built.
Coun. Teresa Feist said that the amount of feedback they received at the open house, she felt that everyone "realizes" that a good pool would help attract families to the are.
"There was another response I really liked, and one of them said something about, 'Another 40-50 years with the new pool, just try to get it right, make Picture Butte a destination everybody wants to come to'. So that was pretty awesome," said Feist.
"The hot tub, driving board, water slide — it's great to see all that come into play, just as long as it can all be worked into, I don't know if it'll all go into option C or not, I guess we'll have to wait and discuss that."
Feist inquired about whether they would need more lifeguards at the pool, depending on what option they went with. Town CAO Keith Davis said that they were designing it so they would only need a maximum of one extra lifeguard if necessary.
Feist also said that one of the things she heard was to ensure they could accommodate swimming lessons, as it was their biggest source of revenue for the pool. Mayor Cathy Moore remarked that swimming lessons were only the pool's biggest source of revenue "so far".
"I think once you make a swimming pool that's got all these different features, it's going to help," said Moore.
"I don't know if swimming lessons are going to be the big revenue anymore, or if it's going to be everything else that's going to bring people in."
Option C has a deep end that is 25 metres in length and six metres across — wide enough for two lanes. If you were to half that, you would be able to have two lessons going on in the deep end and one lesson going on in the shallow end. The current pool has enough room for four lessons to be going on at once. Coun. Joe Watson said that as long as they could get the 15 metres in length desired for swimming lessons, they could let scheduling take care of it, seemingly suggesting that they could tweak the length of the pool.
"We definitely can't jam them all into two or three lanes there, so I think we're (moved), if we want to come back to it, let's do it right," said Watson.
Other feedback received from the open house included a new changing room facility — 34 respondents wanted separate male and female change rooms, 14 wanted family change rooms only and 14 would like to see both separate men's and women's with a family change room option — and respondents indicated that the three pool features they'd like to see at the pool were a diving board, spray features and waterslide.
As support was indicated for all three changing rooms, Davis said that the conceptual design wasn't finalized, so they could go back to the designer to allow for it.
Coun. Henry de Kok said they could tweak it so the changing rooms were connected to a hallway along the front of them and you would walk through them to the pool.
Watson said he heard a comment in regards to the entrance to the pool from the changing room leading out to the deep end, saying it would make more sense to flip it so it leads to the shallow end instead.
Extra features for the pool, such as a climbing wall feature in the conceptual design of option C, were not factored into the estimated price tag for the pool.
Although the town earmarked $1.6 million for the pool project January, and had asked architects to design layouts for pools costing $1.6 million, $2 million and $2.5 million, the estimated cost for all three pool designs came in at above their respective budgets.
The cost estimate for option C came in at around $3.9 million.
Davis said that at this present time, they don't know the hard cost of building the pool will be, and it was one of the reasons why they're doing a design build; so they can see what the market would demand for building this kind of project.
Council unanimously received and filed the pool open house feedback for information.
Following an in-camera — or closed — session, council passed a motion to direct administration to issue an RFP for a design-build tender for option C of the conceptual designs for the new pool project.