Provincial funding for twinning Highway 3
Posted on July 7, 2020 by Sunny South News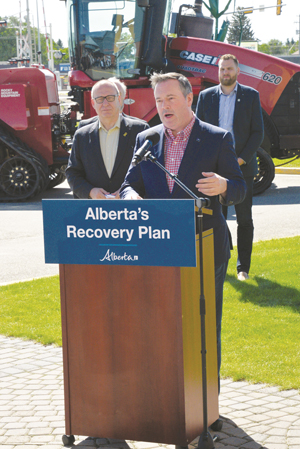 Southern Alberta Newspapers photo by Cole Parkinson. Premier Jason Kenney in 2020 announcing funding to twin HWY 3 from Taber to Burdett.
By Nikki Jamieson
Sunny South News
Construction will begin next year on twinning a stretch of Highway 3.
In an announcement last Thursday in Taber, premier Jason Kenney announced $150 million in funding to twin the 46 km-long stretch of highway between Taber and Burdett as part of the province's economic recovery plan.
"This project is part of our government's $10-billion economic recovery program," said Kenney. "We need to build, diversify and create jobs following the largest financial hit in Alberta's history. These projects lay the foundation for the private sector to create thousands of well-paying jobs for workers while creating many spinoff benefits for Alberta — including making communities more attractive to businesses looking to relocate. A strong highway network is vital to create jobs, spur economic growth and get Alberta back on track to economic recovery and growth."
It will take three years to twin that section of the highway. Highway 3 runs through southern Alberta from the Saskatchewan border to British Columbia, and is an important link south of the Trans-Canada Highway.
"The twinning of Highway 3, between Taber and Burdett, will not only increase safety in the movement of goods, services and people but it will also be a major infrastructure tool in helping establish this busy corridor as the agri-food hub of Canada," said Grant Hunter, MLA for Taber-Warner.
Approximately 3,900 vehicles travel this stretch of Highway 3 everyday. The project will support about 755 jobs, and in addition to the twinning construction, work will also be done to help improve key intersections along that stretch, such as at the Highway 877 intersection in Grassy Lake.
Bill Chapman, Coaldale town councillor and president of the Highway 3 Twinning Association, said it was a welcome announcement. The association has been advocating to have the entire Highway from Crowsnest Pass to Medicine Hat twinned for the past 20 years, and he says they're grateful for the funding announcement, and calls the project "a good start".
"It just shows that the government understands what the project is all about," said Chapman.
"(Safety) is the most important part of any road construction, and we want to ensure that everyone using that highway is able to travel safely. We have lots of big equipment on the highway, we have lots of cars on the highway, and the economy is moving forward, it's a part of a major agricultural corridor, and so agriculture will become the really main superpower — as (Lethbridge MP) Rachael Harder says — or it becomes the centrepiece for the economy here in southern Alberta."